Grace Lutheran Church (2041 Madison St) is hosting a concert by the Sweet Adelines International Chorus out of Nashville, TN on Sunday February 21st at 4:00pm. The performance is part of the Grace Lutheran Concert Series.
The Metro Nashville Chorus was chartered as a Sweet Adelines International chorus in 1971 and has performed in Middle Tennessee for almost 40 years.  There are almost 30,000 women involved in Sweet Adelines, and more than 600 choruses around the world.  Most of their members live in the Nashville area, but there are a few who travel from Columbia, Knoxville, Huntsville and Birmingham.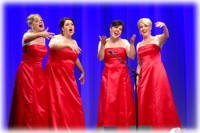 The group is under the direction of Master Kim Wonders, who has been a member of Metro Nashville since 1979 and their director since 1988.  Kim is also the choral director at Hunters Lane High School. She was recently appointed Education Coordinator for Region 23 by the Sweet Adelines International Board.
As always, the concert is free and open to the public.  For more information contact the church at 931-647-6750.