Austin Peay State University women's basketball team will meet Tennessee in the 2010 NCAA Women's Basketball Championship's first round, the NCAA announced, Monday. The Lady Govs and Lady Vols will meet in a 11:16 a.m. (CDT), Saturday contest in Knoxville.
Austin Peay (15-17) earned the Ohio Valley Conference's automatic bid after winning three games in the league's tournament. The Lady Govs were picked to finish second in the OVC's preseason poll and fell just shy of that expectation, finishing third with an 11-7 record. It was APSU's best OVC finish and win total during head coach Carrie Daniels' tenure – a two-spot improvement over the previous season's finish (fifth) while improving the win total by one win. The Lady Govs non-conference slate included six teams selected to this year's NCAA tournament field – Xavier (No. 3, Sacramento Region), Vanderbilt (No. 6, Sacramento Region), James Madison (No. 9, Dayton Region), Middle Tennessee (No. 10, Dayton Region), UALR (No. 11, Kansas City Region) and Chattanooga (No. 13, Sacramento Region).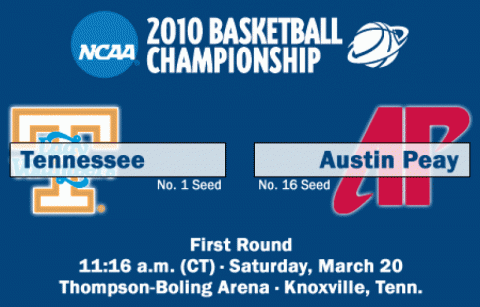 The Lady Govs are led by the trio of senior Nicole Jamen, junior Ashley Herring and sophomore Jasmine Rayner. Herring, a first-team All-OVC selection, was named the OVC Tournament's "Most Valuable Player" and enters the NCAA tournament leading APSU in scoring (14.8 ppg) and assists (2.5 apg) while ranking third in rebounding (5.4 rpg). Jamen and Rayner form the Lady Govs inside duo, combining to average 21.0 points and 16.0 rebounds per game. Jamen was a second-team All-OVC selection and also was named to the OVC all-tournament team.
Tennessee (30-2) won both the Southeastern Conference's regular-season and tournament titles – the seventh time it has claimed both championships, the last coming during the 2000 season. The Lady Vols have won 14 consecutive games entering the NCAA tournament, last falling at then No. 8 Georgia, 53-50, Jan. 21. Tennessee reached 30 wins for the 19th time under head coach Pat Summitt who is in her 36th season.
The Lady Vols have featured a balanced offensive attack with five players averaging more than 10 points per game. Sophomore Alyssa Brewer, who is averaging 10.3 points and 5.7 rebounds per game, was named the SEC Tournament's "Most Valuable Player" after receiving the league's "6th Woman of the Year" honors. Junior Angie Bjorklund and sophomore Kelley Cain were each first-team All-SEC selections. Bjorklund leads UT in scoring, averaging 14.1 points per game, while Cain is fifth in scoring (10.2 ppg) but leads the team with 3.4 blocks per game.
For the eighth consecutive year, the ESPN networks will combine to present all 63 games from the NCAA Women's Basketball Championship. During the first two rounds, ESPN and ESPN2 will present the 48 games within 12 telecast windows in a whip-around format with home market protection. ESPN360.com will offer complete game telecasts of all 63 games, while ESPNU will offer select ESPN and ESPN2 early-round games in their entirety.
Quotes from Austin Peay head coach Carrie Daniels:
On facing Tennessee:
Obviously we knew we were going to be a 16-seed and face a No. 1 seed. I don't know if there is a No. 1 seed that's going to be easy to face. I believe Knoxville is going to be an easy place to travel for our fans and that's one thing about the tournament – you want to go have a great experience with your team and be able to have fans there to support you.

Tennessee is a tremendous team and has had a great season and you know they're going to make a great run in the tournament. We're going to go step on the court having the experience of being in the tournament last year. Hopefully we'll draw from that experience and go out there and give them a good game.
On taking momentum from OVC Tournament into NCAA Championship:
I believe we have to have the same focus we had going into the OVC Tournament. Our defense and rebounding is going to be key, it helps propel our offense. If our team continues with the same mindset we had going to the OVC Tournament I believe we can compete and represent ourselves well in the NCAA tournament. We played the schedule we did to prepare us for just this instance.
On dealing with the "awe" factor of playing Tennessee:
You have to continue to stress the same things we did at the OVC Tournament even though its on a much-greater stage. It's still just another game – it's still 40 minutes, the court is the same size, the goals are the same size. Yes, the crowd is going to be that much bigger and there will be that much more orange, it is going to be an amazing atmosphere. But that is why we do this. They should be proud they are on that stage but yet we're there to step on the floor and compete for 40 minutes.