With his wife Donita and daughter Heather at his side, Mayor Johnny Piper announced today that he will not seek re-election for a third term as Mayor.
"After much prayer and consultation with my family and close friends, I have decided not to seek re-election as Mayor of Clarksville," said Mayor Piper.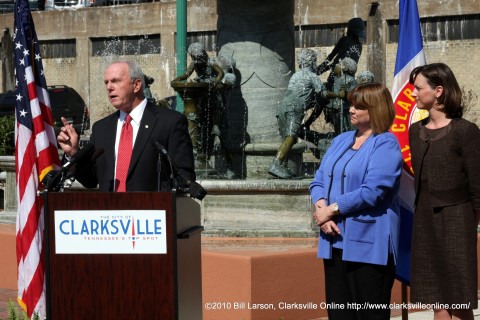 Mayor Piper made the announcement today to supporters and city colleagues who gathered by the fountain on Strawberry Alley in downtown Clarksville. The backdrop of today's announcement was in the heart of the downtown business district which has witnessed a rebirth during Piper's tenure as Mayor.
"Being Mayor is just a small part of who I am and I am looking forward to enjoying and focusing on other things that I have going on in my life," Mayor Piper said.
Video
A video of the Mayor's Statement.
Photo Gallery
Accomplishments during Piper Administrations
Clarksville Marina and Liberty Park
Expansion of the Riverwalk
The building of the Clarksville Greenway
Ted Crozier Boulevard Construction and Development
Rebuilt Historic downtown Clarksville following the 1999 F-4 Tornado
University Boulevard Development
Hemlock Semiconductor Deal
Riverside Drive Reconstruction
Christmas on the Cumberland
Strawberry Alley Transformation
July 3rd Independence Day Celebration