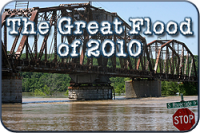 The cleanup from the Great Flood of 2010 continues. While many media outlets have ended their flood coverage, Clarksville Online will continue to keep you up to date on the status of the areas where businesses were affected by the flood.
Open for Business
Businesses that have reopened include:
Exxon Station at 1361 College Street
NAPA Auto Parts located at 786 North Second Street
Andy's Pharmacy located at 801 North 2nd Street
Sonic located at 701 North Riverside Drive
Waffle House located at 734 North Riverside Drive
Relocation Reality located at 111 North Riverside Drive
C&S Auto Repair located at 617 South Riverside Drive
Riverside Pawn & Sales located at 1007 South Riverside Drive
The Automotive side of Bill Roberts' Thunder Road Automotive & Marine located at 997 South Riverside Drive
O'Reilly Auto Parts located at 1029 South Riverside Drive
Save-A-Lot located at 1037 South Riverside Drive
Riverside Super Laundromat located at 1049 South Riverside Drive
Dairy Queen located at 1055 South Riverside Drive
Shell Sudden Service Station located at 1070 South Riverside Drive
Pizza Hut 703 S Riverside Dr Ste A, (931) 552-4111
Temporarily relocated
Other businesses have temporarily relocated including:
Town and Country Drugs, which has opened up a temporary location at 428 Madison Street
The Marine side of Bill Roberts' Thunder Road Automotive & Marine is operating out of 2064 Wilma Rudolph Blvd
Coldwell Banker Conroy Marable & Holleman Real Estate Inc has relocated to 601 North Second Street
Mary's Music has moved into the upstairs portion of their Riverside drive location, the former Ioof lodge (entrance on the side of their building)
David Brown's State Farm Insurance has relocated to 529 North Second Street suite 2
The Salvation Army has a temporary warehouse which can accept donations for flood victims at 600 C. Cumberland Drive
BFS Insurance Group customers can be serviced at their other location at 1545 Madison Street
Volunteers are still needed
Many businesses still are in dire need clean-up assistance. By volunteering at a local business or home affected by the flooding you can help them put their lives back into order. Hardware City even has a sign up by Riverside Drive soliciting volunteer assistance from passerbys, the Salvation army still is in need of assistance with the cleanup of both their Thrift Store and Homeless Shelter on Kraft Street, and these are not the only businesses in need of assistance! People and businesses who are affected by the flood still can really use your help.
Even if you can't volunteer, you can help affected businesses by patronizing them when they re-open. Not only are they bearing the cost of the cleanup, but they also have been closed for over a week as of this point. So consider going to eat a burger at Dairy Queen, Buying a Car or boat at Bill Roberts Automotive & Marine, getting auto parts at O'Reilly's Auto Parts, checking on Insurance deals with the BFS Insurance Group, or doing business with any of the other businesses as they re-open.