Topic: Thunder Road Automotive & Marine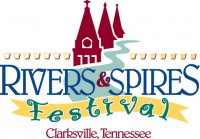 Clarksville, TN – Due to unseasonably chilly weather and a blustery wind, the third day of Rivers and Spires looked like it was going to end with a whimper rather than a bang, the victim of the unpredictable spring weather. However as the afternoon wore on, more and more people showed up to enjoy all that the festival had to offer. "The crowd hung in even though we had monsoon winds and rains, and I think it says a lot about this festival, and how much people enjoy it" said Festival Manager Doug Barber.
«Read the rest of this article»
Clarksville, TN – Bill Roberts Thunder Road Automotive & Marine is holding a spring kickoff at the Walmart in Sango, near the Murphy Gas Station. Various boats of all kind are displayed that will let you enjoy the coming summer weather to the utmost. There will be special boat show deals on many of the boats on display. So come by and check them out!
The show will be going on Thursday-Saturday from 9:00am till the last customers are served. On Sunday the show will run from 12:00pm till 6:00pm.
Affected by the May 2010 Flooding, Bill Roberts is proud to announce that they are in the process of relocating back down to their Riverside Drive location. The Car Dealership has already re-opened, the boat dealership and supply store should be fully relocated by Monday.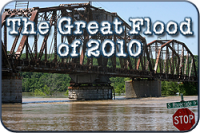 The cleanup from the Great Flood of 2010 continues. While many media outlets have ended their flood coverage, Clarksville Online will continue to keep you up to date on the status of the areas where businesses were affected by the flood. «Read the rest of this article»
They came by the hundreds soldiers' from Fort Campbell ready to assist those in need of help in our flood ravaged community. These selfless soldiers voluntarily went into some of the dankest, dirtiest environments in our city; and yet were still able to come out of it with a smile on their face!
They were seen as a godsend by the people they helped with the flood cleanup on Friday including local businessman Bill Roberts of Thunder Road Automotive & Marine whose face couldn't help breaking out in a broad smile as he saw even more soldiers had arrived at his business to help out. At Hardware City owner Joni Covington had teams of soldiers throughout her store and was vocal in her praise for them "These soldiers are absolutely amazing" she said. At Mary's Music and BFS Insurance the soldiers were gathered in a group with Freddy Wyatt and Andy Jones who were busy thanking them for their hard work that day.
«Read the rest of this article»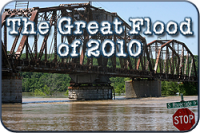 On Saturday after several days of very heavy rains the Cumberland River and Red River began to rise. The resulting flood easily bypassed the 100 year flood mark prompting Governor Phil Bredesen to request that Western and Middle Tennessee be declared a disaster area freeing up Federal monies to help with the post-flood cleanup and reconstruction. Clarksville Mayor Johnny Piper also issued his own request for a disaster declaration. The final tally of this flood is expected to run in the multi-billion dollar range, with millions of dollars worth of damage right here in Clarksville, Tennessee.
Early on Sunday prudent business owners including Bill Roberts, Thunder Road Automotive & Marine; Mike O'Malley, Wendy's; and Elke Melton, Relocation Reality; among others were getting ready!
«Read the rest of this article»