Group Gives MONKEES 1966 Hit A Country/Bluegrass Twist

Nashville, TN –Two-time International Bluegrass Music Association Entertainers of the Year, The Grascals (www.grascals.com), invite country radio to jump on board their latest release, "Last Train To Clarksville." Delivered to programmers via CDX Vol. 501, the single is a proven winner; the driving up-tempo song was a smash for The Monkees in 1966. 
On the new version, three-part harmonies (Eldredge, Johnson, Smith) run throughout  the track – setting this outing apart- and creating a literal "wall of sound." The Grascals juice things up with Kristin Scott Benson's ripping banjo and Jeremy Abshire's amazing fiddle work.  Terry Eldredge keeps the track moving with lightning-fast guitar work, while Terry Smith (bass) and Danny Roberts (mandolin) round out the group's signature sound. "We all were familiar with this song, and it was a blast to record," says Johnson. "We put a little grass and a little bit of country in it." "Last Train To Clarksville" is from their newest disc, the critically-acclaimed THE FAMOUS LEFT FLYNN'S (Rounder).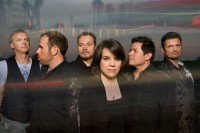 Pre-production is underway for a video to accompany the new release, and filming on the project begins later this month.  The single is already attracting a legion of devoted bluegrass fans, debuting at #20 on the Bluegrass Music Profiles Chart, while THE FAMOUS LEFTY FLYNN'S enters at #4.
"Last Train To Clarksville" is only the third single that the group has released to country radio.  The hugely-popular "Viva Las Vegas" (with special guest Dolly Parton) debuted at #3 on the Billboard Top Country Singles Sales Chart in 2004 and spent over a year in the Top 10.
RADIO:  "Last Train To Clarksville" can also be downloaded directly from www.airplaydirect.com/thegrascals