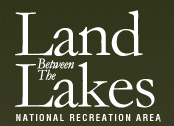 Golden Pond, KY – Land Between The Lakes (LBL) National Recreation is making visitors aware of lane and width restrictions on US 68/KY 80 Eggner's Ferry Bridge (over Kentucky Lake) beginning Monday, July 26th, 2010.  Traffic will be restricted to vehicles less than 7.5 feet in width.  A marked truck detour will be set up to re-route large vehicles such as Motor Homes and vehicles pulling trailers.
Visitors planning to use the western entrance into LBL should be aware that the bridge will be restricted to passenger vehicles and pick-up trucks only.  According to Kentucky Transportation Cabinet officials, traffic across the bridge will be controlled by an automated traffic signal, which will make 5 minute delays likely.  Delays of longer duration will also be possible during the construction.
The 24-hour lane restriction is to allow a contractor to complete full depth deck repairs and install a deck overlay on the bridge.  The work is expected to be completed within 60 days. 
LBL visitors pulling horse trailers heading to Wranglers Campground, hauling ATV's to Turkey Bay Off-Highway Vehicle Area, and pulling boat trailers should be aware of this strict work zone lane restriction.  Motorists pulling trailers or driving larger vehicles who would normally travel US 68/KY 80 eastbound into LBL, should consider using the northern or southern entrance to LBL as an alternate route.
About Land Between the Lakes
Land Between The Lakes is managed by the Forest Service, U.S. Department of Agriculture, in partnership with "Friends of LBL," to provide public lands outdoor recreation and environmental education.  LBL information and maps are available on our website at www.lbl.org or by calling 1-800-LBL-7077 or 270-924-2000.  We encourage visitors to review our website each season, and throughout the season, for our Calendar of Events, updates on programs and policies, and temporary trail and road closures.  You can find out more about "Friends of LBL" at www.friendsoflbl.org.