Trent Tomlinson and Former WWE Diva Mickie James to Perform at The Nashville Rhythm & Race Festival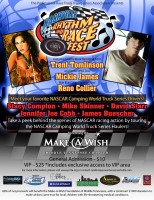 Nashville, TN – On Thursday, August 5th, Nashville Rhythm and Race Fest rolls into Music City ready to share the ultimate NASCAR experience. Brought to you by The Professional Race Truck Transporters Association (PRTTA) and Powerhouse Entertainment Group; this year's event will benefit Make-A-Wish Foundation of Middle Tennessee. The event kicks off at 5:00pm and closes out at 11:00pm at the Limelight (201 Woodland St) across from the Titans Stadium.
The colorful NASCAR haulers will pull in to Limelight in Nashville to gear up for a night of good times and good music for a great cause.
The PRTTA makes it possible for race teams to travel all over the country and are giving fans a behind-the-scenes look into NASCAR's state-of-the-art haulers from 5 PM to 9 PM. Entertainment will kick off at 7 PM with Reno Collier hosting the event and featured performances by Trent Tomlinson and Mickie James.
NASCAR Camping World Truck Series Drivers Stacy Compton, Mike Skinner, David Starr, Jennifer Joe Cobb and James Buescher will make an exclusive appearance at Limelight to raise funds, celebrate and spend time with the fans.
With ticket prices starting at $10, music and motorsports fun for the whole family, this high octane event is sure to entertain fans of all ages.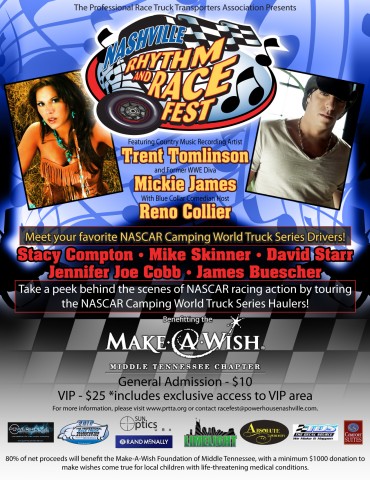 Sections
Events
Topics
Make-A-Wish Foundation, NASCAR