Austin Peay State University assistant professor of history Dr. Christos Frentzos will deliver a public lecture on Israel and counterterrorism at 4:00pm, September 30th, in the campus' Gentry Auditorium, located in the Kimbrough Building.
The lecture, sponsored by the APSU Phi Alpha Theta History Honor Society, will focus on Frentzos' experiences this summer when he spent 10 days in Israel as part of a counterterrorism fellowship.
During his visit, the APSU professor met convicted terrorists, attended lectures by Israeli defense officials and visited undercover police units in undisclosed locations.
He watched officers conduct a live ammo demonstration and learned how the Israelis prefer coercion to torture in gathering information.
He also witnessed a simulated operation in which undercover officers would infiltrate an Arab neighborhood and then snatch-and-grab a suspected terrorist.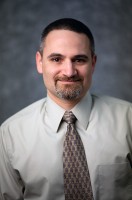 "This fellowship provided a fantastic opportunity for me to really get my feet wet and learn first hand what a democracy, Israel, is doing to combat terrorism," Frentzos said in June. "When you're a democracy there's a very difficult path to try and go after people who are using insurgency and terrorism. They don't play by the rules, yet as a democracy that follows the rule of law, you are expected to follow these rules. It's very difficult."
The lecture is free and open to the public. For more information, contact the APSU Department of History at 931-221-7919.