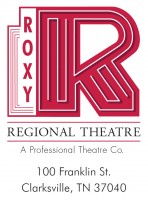 Clarksville, TN – At twilight you will drink deep … and by the new moon live forever! One of the most frightening novels ever written comes to life upon the stage of the Roxy Regional Theatre with the opening of Frank Wildhorn's DRACULA: The Musical at 8:00pm on Friday, October 8th.
 
Following Dracula's lust for new blood and a small band of mortal men and women who must face his overwhelming seduction and mesmeric supernatural powers, this musical eclipses all other horror stories.  Presented in the vein of the "Twilight" series and "True Blood," the Roxy Regional Theatre's production of DRACULA brings a modern spin to the Bram Stoker classic.
Starring Justin Barnum as Count Dracula, this terrifying and passionate new musical also features Joanna Carpenter as Mina, Laura Lynne Tapper as Lucy, Ryan Bowie as Jonathan Harker, Keith Patrick McCoy as Van Helsing, Ryan Dawley, Michael Hadary, Travis Kendrick, Lisa MacAfee, Lia Sumerano, Kendall Anne Thompson and Nate Washburn.  
DRACULA runs October 8th through October 30th, playing Wednesdays and Thursdays at 7:00pm and Fridays and Saturdays at 8:00pm, with 2:00pm matinees on Saturday, October 16th and 30th.  Tickets are $20.00 (adults) and $15.00 (ages 13 and under) and may be reserved online at
www.roxyregionaltheatre.org
, by phone at 931-645-7699, or at the theatre during regular box office hours (9:00am-2:00pm, weekdays).