Clarksville, TN – On Saturday, October 9th, the Second Annual Art Alumni Homecoming Exhibition honored the work of the talented art graduates of the APSU Department of Art. Sponsored in addition to the art department by the Center of Excellence for the Creative Arts, the show, located in the Trahern Building Gallery, encompassed more than 100 entries.
A free entry to the art show also included an excellent outdoor reception with hamburgers and all the trimmings prepared by Bill Farmer. One of the surprises of the afternoon was a presentation to Mr. Farmer for his great contributions to the Department of Art. The portrait called "Bill" by artist Brad Reagan portrayed Mr. Farmer himself. The intricate drawing was executed in conte crayon and was worthy of a grand prize in itself.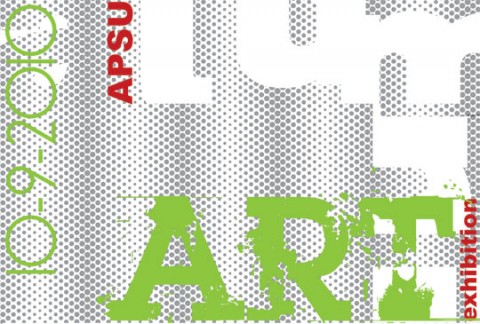 Christopher Burawa, Executive Director for the Center of Excellence for the Creative Arts, said, "This show is especially of interest because it reveals how our alumni are growing as artists and it is so good for our current students to see their work."
APSU executives attending the show included new Provost, Dr. Tristan Denley, (recently joining APSU from the math department of the University of Mississippi), and Dr. Dixie Webb, Dean of the College of Arts and Letters and Professor of Art History.
APSU history came alive with the memories of Claudell Wootton, an alumnus of the Department of Art, who revealed that her childhood was spent in Harned Hall, the oldest building on the APSU campus. After her mother died when she was eight, Ms. Wootton came to live in Harned Hall with her aunt, Hazel Smith, the first art professor at what was then first "The Normal" and later "Austin Peay State College."
The show featured a creative variety of artwork including watercolor, pastel, acrylic and oil painting; clay, wood and sculpture; digital art; quilting; graphic design; prints; photography; ceramics; stoneware; pen and ink; conte crayon; charcoal; etching; collage; reed and fabric baskets; letter press; stained glass; wood turning; gelatin silver; hand-painted paper; and statement art including compositions featuring laundry lint and a spray-painted oil-filled barrel. Although many pieces were not for sale, those offered ranged from $20 to $3,000.
Gregg Schlanger, chair of the department, served as master of ceremonies after APSU President Tim Hall was detained by serving in the Homecoming Parade taking place down Eighth Street adjacent to the Trahern Building. Schlanger, whose charming sense of humor held the festivities to a relaxed and enjoyable celebration of alumni talent, presented the following awards (parenthesis includes year of graduation):
President's Awards:
Grand Prize – Monica Quattrochio (1998) "Ripple," digital photo
Outstanding Prizes: (all of equal standing)
Lynne Waters-Griffey (1972) "Civil War Cannon," watercolor
Patricia A. Hudson (1972) "Intricate Depths," watercolor/pastel
Sheila Dannenmaier (1978) "After the Storm," acrylic
David Hughes (1979) "untitled III," acrylic/acetate canvas
People's Choice Awards:
Jerry Abernathy Church (1977) "Elephant at Sunset," quilt
Monica Quattrochio (1998) "Ripple," digital photo
Susan Tomi McGolrick Cheek (2010) "Fishy," fish print
Gwendolyn Rodriguez (1991) "Black Bean Soup," oil painting
Judges' Awards:
Amazing Award – Claudell Wootton (1947) untitled watercolor painting
Best of Show:
(from 1940 – 1979) Jerry Abernathy Church (1977) "Elephant at Sunset," quilt
(from 1981 – 1999) Lisa Cook (1986) untitled digital print
(from 2000 – 2010) Marc Pewitt (2000) "Origins," mixed
Awards
A number of awards were presented by faculty members of the Department of Art and APSU dignitaries.
From Bettye Holte, emeritus faculty, to Miranda Herrick (1999) "C line," pen and ink
Awards of Merit
From Provost Tristan Denley to Melody Shipley (1996) "Open Vessel," stoneware
From Dean of the College of Arts and Letters Dixie Webb to Mandy Schmucker (2006) "3rd Life," laundry lint
Honorary Mention (chosen by art faculty members):
Danesha Stallings (2007) "Energy," mixed media collage
Piper Bell (1999) "Hawaiian Volcano Fern," digital photo
Melody Shipley (1996) "Open Vessel," stoneware
Sam Mathews (2006) "Reach," oak sculpture
Sam Mathews (2006) "Walking Stick," oak sculpture
Leigh Averitt-Neperud (2002) "Spider Web," photography
Howard D. Marklin (1973) "The Bear," cherry bowl (wood turning)
Nikki Romero (2008) "Rest Stop," holochrome silver gelatin
Kristina Lyle (2003) "Movement," paper
Nancy Diamond (1997) "Starla and Darla," clay
August Hampton (2000) "Green Gesture," painting
Lindsey Davis Ward (2009) untitled oil on board
Not to be missed!
The next show at APSU Department of Art is the APSU Faculty Biennial beginning October 14th and continuing through October 30th. Sponsored by The Center of Excellence for the Creative Arts and the Department of Art, gallery hours are Monday through Friday, 9:00am until 4:00pm On Saturday and Sunday, the gallery is open from 1:00pm to 4:00pm.