APSU Women's Volleyball

Louisville, KY – Austin Peay State University's volleyball team saw its eight-match win streak stopped with a four-set loss (19-25, 25-18, 23-25, 21-25) to Louisville, Saturday, in non-conference action at Louisville Arena.
The first two sets were wire-to-wire affairs. Louisville (22-7) jumped out to a 4-1 lead in the opening set only to watch Austin Peay (26-7) battle back to tie the set at both 6-6 and 7-7. However, the Lady Govs could not take the lead and the Cardinals scored six of the nine points to take a three-point, 12-9 lead. Louisville would nurse that lead until scoring three straight points to take a five-point, 23-18, led which they would maintain.
Austin Peay returned the favor in the second set using an early 8-2 scoring run – paced by three services aces, one by senior Jessica Mollmann and two more by senior Sarah Alisaleh – to build an 11-5 lead. A later 7-4 run that included a pair of service aces by junior Ilyanna Hernandez – pushed the lead to nine points, 19-10, and they would hold that advantage en route to a 25-18 set win.
The third set was a see-saw affair, Louisville using an early stretch of five consecutive points to take a 9-5 lead. There the lead would stay until the Lady Govs 6-2 run tied the match at 22-22 after an Ilyanna Hernandez kill. The Cardinals scored three of the set's final four points to secure the 25-23 victory.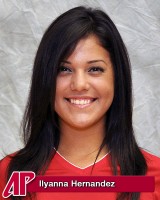 The Cardinals took control of the fourth set with a streak of eight straight points to build a 16-8 lead. Austin Peay would chip away at the lead and closed to within two points, 23-21, courtesy another pair of Hernandez kills.
But that was as close as Louisville would let APSU get, scoring the match's final two points.
"I believe the team showed a lot of tenacity today," said Lady Govs head coach Haley Janicek. "They played in a tough environment against a good team. Our goals are still the same – to get better every day – and we did that."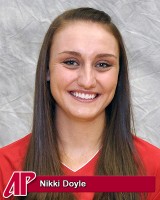 Hernandez finished with 15 kills, a .297 attack percentage and three aces to lead Austin Peay's offensive effort. Sophomore Nikki Doyle added 10 kills and sophomore Alex Sain added nine kills.
The Lady Govs posted 48 kills and a .222 attack percentage against the Big East Tournament Champions. Austin Peay also continued its torrid service ace pace, scoring nine at Louisville, Hernandez and Alisaleh each posting three.
"Taylor (Skinner), Alex and Ilyanna all played extremely well tonight," said Janicek. "But we were in the match due to a team effort of aggressive serving.
That is something we hang our hat on and makes it possible for us to be successful."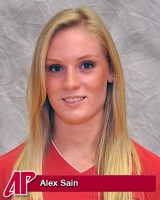 Lola Arslanbekova led Louisville with 17 kills. Emily Juhl came off the bench to score 13 kills and Gwen Rucker added 10 kills.
Austin Peay returns home to learn its opponent and destination for its first-ever NCAA Volleyball Championship appearance.
The APSU athletics department will host a reception beginning at 1:30pm, Sunday. Part of the festivities will include the presentation of the Championship bracket beginning at 2:00pm on ESPNews.