APSU Men's Basketball

Cape Girardeau, MO – Austin Peay State University built a 15-point halftime and then had to hold off a stubborn Southeast Missouri State University team before finally emerging with a 78-60 victory in Ohio Valley Conference-opening action Thursday night at the Show Me Center.
The victory improved the Governors to 4-4 overall and 1-0 in the OVC. Meanwhile, SEMO remains winless at 0-7.
The Governors displayed one of their finest halves of basketball during the contest's first 20 minutes, shooting 50 percent (15 of 30) from the floor while forcing 11 Southeast Missouri turnovers as it three time built as much as a 17-point lead, including 14 points from Anthony Campbell.
But the early stages of the second half saw SEMO emerge from its lethargy and claw its way back into the game. Led by Anthony Allison, who went 7-of-12 in the second half, the Redhawks climbed their way back, slicing their deficit to single digits in the first five minutes in the half before really turning up the heat over next five minutes. When Allison converted a traditional three-point lead with 9:48 left, it capped a 24-10 run to open the half to make it a 51-50 Govs' lead.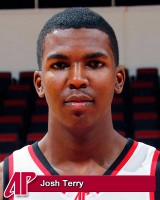 But Josh Terry would connect on a free throw to make it a two-point game and, after a rare Allison miss, Terry scored on a layup to make it a four-point game, 54-50. Allison then knocked down another jumper to make it a two-point contest before Govs center John Fraley, after a wild scramble, grabbed a Terry miss and dropped it in for a four-point lead, 56-52.
After a SEMO turnover, Campbell knocked down a three pointer to push it back to a seven-point lead only to watch Allison answer in kind for a 62-55 advantage with 5:49 left.
On the ensuing possession, with the shot clock winding down, point guard Caleb Brown knocked down a three pointer as the buzzer sounded. The Govs had their seven-point lead again and SEMO would never get closer than five points the game's remainder. In fact, the Governors ended the game on a 15-3 run to make the final score appear to be a little deceiving.
Campbell finished with 19 points for the Govs, who shot 50 percent (26 of 52) from the floor and an even more impressive 80 percent (20 of 25) from the free-throw line. TyShwan Edmondson added 14 points while Fraley and Brown added 13 apiece.
Allison led SEMO with a game-high 20 points while Leon Powell added 14 points on 5-of-5 shooting. Nat Schulte added 11 points. SEMO comeback hopes were  thwarted by a degree from the free-throw line, where the Redhawks finished just 10 of 22 (45.5 percent).
The final of the Govs' nine-game season-opening road swing will be 6:00pm, Saturday, at Eastern Illinois in the second game of the OVC-opening weekend.