Michael Freeland, author of Blood River to Berlin, has recently published Time and the River: A Memoir with photographs by his wife, Ellen. In Time and the River (Periploi Press, Nashville, Tennessee, 2010), Freeland has managed to tell not only a story of love and war but to give an intimate look at what goes on in the mind of a person who has returned from war.
Mike Freeland, a young man who grew up in rural Kentucky (now an octogenarian), shows us what it's like riding the rails in the Roaring Twenties with his brother Chet. Their dreams of making money and writing a novel turned out to be the illusions of young men who have yet to face the real world.
He also reveals what going home on furlough can become.
Freeland doesn't gloss over the way it was back then, nor does he create any superheroes from medics who tried to stem the flow of blood of men on the front lines of war. He just tells it like it was and like it is.
At times during Time and the River, the reader is catapulted from Freeland's home today to the battlefields and back. He shows how men who return fight battles in their minds for as long as they live. He tells of the nights when sleep won't come and of days that he remembers his medic buddy who, having been mortally wounded, "lost his mind in less than one hour" and cried for his mother, "Momma, where are you? Come get me. I'm afraid."
Freeland recalls how the Red Cross armband or cross on one's helmet, jeep or ambulance was a favorite target of the enemy sniper.
Following the playing of "Taps" and introduced as "one of the greatest generation," Freeland also shares his own immortal words from the Memorial Day speech he made in 2010 to his home town, "It wasn't Eisenhower who won the war; it wasn't MacArthur. It wasn't Patton who relieved Bastogne. It wasn't Bradley who took the bridge at Remagen. None of these men did any of those things and too little has been said about those who did—the troops themselves, your fathers, uncles, and mothers, your sons and daughters. World War II—all wars—are won by common soldiers who do the dirty work of killing and dying."
Freeland also gives credit not only to all of our military, but to "the women who went to work in the factories, raised the children, planted victory gardens, wrote letters, put service stars in their windows, prayed…and waited for their men to come home."
Time and the River is filled not only with prose but with poetry, some written by the author, some by his wife, some by other family members and friends.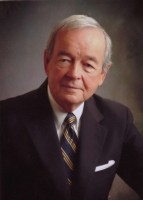 Homage is paid to the 82nd Airborne Division with a description of its moving "110 miles with its first combat elements going into position in less than twenty-four hours and the entire division closing in a new combat areain less than forty hours from the time of the initial alert. It fought, stopped and held against the best divisions German leader, Field Marshal Von Rundstedt, could pit against it, protecting the North shoulder of the Allied line, preventing the German breakthrough from turning north to Liege, Belgium, and providing a safe area through which trapped Allied units could withdraw from the break-through area…despite….that its lines at times stretched more than 25,000 yards…The division set the pace for other units, forcing the enemy back through his famous Siegfried Line."
At the point in time when this was occurring, Michael Freeland was a member of the 22nd Hospital Train evacuating casualties back to the General Hospital in Paris.
It is not only those who take part in the combat itself who come home with nightmares; those who fight to save the fallen are plagued forever too.
The underlying theme of this man's life lies in the words his father engraved on his mind when Michael was a child going out to sell the wildflower honey from his father's bees, "Say as little as possible. Make eye contact. Smile. Stand straight and still….Always tell the truth….Do what you love…and the rest comes easy."
It is obvious that Michael Freeland also heeded other parts of his father's mantra, "The simple life is the best life. All a man needs to be happy is a good woman, few acres of land as far back off the road as he can get, a few hives of bees, a good garden, some fruit trees, grapevines, and a dog."
When we see the behavior of too many people in this world around us appearing to be based on total loss of common sense, we need to read a book like Time and the River. It is important to be reminded of what is important in life—and Michael Freeland has reminded us of those things in this beautiful memoir.