Training Underway for Production Operators Who will Operate Plant

Clarksville, TN. – 1,150 construction workers are currently employed at the Hemlock Semiconductor, L.L.C. site in Clarksville, with the on-site construction workforce expected to peak at approximately 1,500 workers by mid-2011. Hemlock Semiconductor is building a $1.2 billion facility to manufacture polysilicon, the cornerstone material for solar cells.
"We have carpenters, electricians, pipefitters, welders and many more craft persons working on our site," said Jim Russo, project director, Hemlock Semiconductor, L.L.C. "We are constantly awarding new contracts and creating jobs."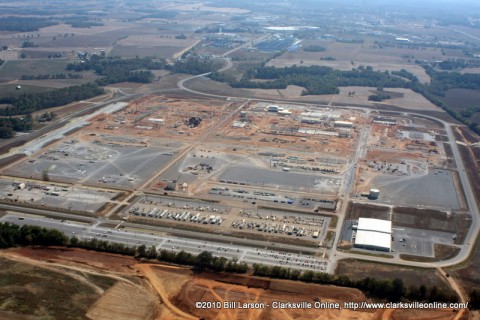 Russo says the construction workforce changes frequently as the work is spread among many different contractors, giving more people the opportunity to work on the project. Information about available construction jobs is available through the Montgomery County Career Center. Visit hscpoly.com to learn about contracting opportunities.
Construction began in November 2009 and is expected to continue into 2012, with the plant scheduled to begin operations in late 2012. The company plans to open the Solar Center, where administrative offices will be located, in late spring of 2011. Work on infrastructure such as a rail spur, water tank and power lines is underway.
Hemlock Semiconductor is also rolling-out a training program for production operators, who will represent the backbone of the manufacturing workforce and largest number of the 500 full-time positions at the Clarksville site. The first group of ten production operators began training in mid-November, with a regular schedule of hiring and training for production operators continuing through 2011.
Training for production operators consists of a combination of hands-on training at the Hemlock Semiconductor site in Michigan and classroom work in areas such as high-performing teams, creative thinking and safety. While in training, production operators work one week in Clarksville followed by three weeks in Hemlock, Michigan, for a total of thirty weeks.
"At the end of thirty weeks of training, these team members will be qualified to operate the plant," said Brian Amick, Clarksville Site training manager for Hemlock Semiconductor, L.L.C.
Job openings and qualifications are posted at hscpoly.com and will be continually updated as hiring continues into 2012. In addition to production operators, available positions include degreed and experienced chemical, electrical, and mechanical engineers; and skilled trades such as instrumentation and pipefitting/welding. Resumes must be submitted online.
About Hemlock Semiconductor Group

The Hemlock Semiconductor Group (hscpoly.com) – Hemlock Semiconductor – is comprised of two joint ventures: Hemlock Semiconductor Corporation and Hemlock Semiconductor, L.L.C. The companies are joint ventures of Dow Corning Corporation, Shin-Etsu Handotai and Mitsubishi Materials Corporation. Hemlock Semiconductor is a leading provider of polycrystalline silicon and other silicon-based products used in the manufacturing of semiconductor devices and solar cells and modules. Hemlock Semiconductor began its Michigan operations in 1961 and broke ground at its Tennessee location in 2009.
HSC and HEMLOCK SEMICONDUCTOR are trademarks of Dow Corning Corporation.