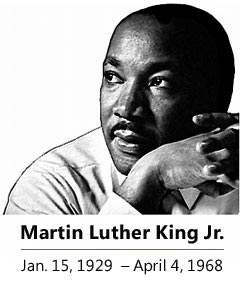 It was 42 years ago today that civil rights leader Dr. Martin Luther King Jr. was assassinated in Memphis Tennessee at the The Lorraine Motel by James Earl Ray. Today also marks the 25th Anniversary of the Martin Luther King, Jr. Federal Holiday. The impact Dr. King had on people throughout the United States and the world can be felt just as strongly today as when he was here with us.
To ensure that the dream that Dr. King spoke so fondly of is not forgotten, members of the Clarksville community along with the Clarksville Branch of the NAACP and the Clarksville Area Ministerial Association will be joining together to celebrate his life today.
At 9:00am there will be a series of Educational classes on the National theme "One Nation, One Dream" for age groups 4-7yrs (combined), 8-10 yrs (m/f), 11-13 yrs (m/f), and 14-19yrs (m/f).  Held at Fifth Ward Missionary Baptist Church (900 Franklin Street).   There will also be a poster display constructed by the students recognizing Dr. King's dream.
The event will conclude with the Annual Commemorative March through downtown Clarksville at 12:00pm. The march will organize and start at Burt Elementary School. Come out and join the celebration!  For more information contact: Cathy Johnson at 931-338-2533.
The Clarksville Area Ministerial Association will also be holding their Fourteenth Annual Unity Worship Service at Faith Outreach Church (731 Windermere Drive) at 6:00pm. The guest Speaker will be Rev. Frank Billue from Atlanta, GA.  For more information contact: Dr. Anderson H. Grant, Coordinator, at 931-220-2256 or 645-0168
Photo Gallery
Images from the 2010 Martin Luther King Jr. Celebration