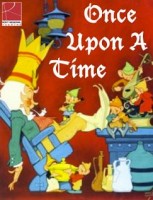 Clarksville, TN – The Roxy Regional Theatre is currently staging the enchanting play Once Upon A Time. The play consists of five fairy tales based on the stories of Hans Christian Anderson and the Brothers Grimm. It is directed by John McDonald, who with  70 young people from the Roxy Regional School of the Arts worked on the script for this play. Broadway World has rated it one of the best ensemble productions that they have ever seen.
There's always a sense of impending magic as you walk into the Roxy Regional Theatre to see a new production of theirs. You never know just what to expect. The set is the first thing to greet your eyes. In this case the stage is dominated by an ornate archway, which  looks like something you would see in a major opera house. When you look closely, you can see that it's actually covered with egg cartons and Christmas lights. "You can't buy magic," said John McDonald, the Roxy Regional Theatre's Artistic Director; and he is right.
The cast is well rounded, featuring a mix of returning actors from previous shows, along with new talent brought especially for this show and the upcoming Ain't Misbehavin'. The actors are Keith Patrick McCoy, Ryan Bowie, Travis Kendrick, Roslyn Seale, and Faith Boles. Their exaggerated actions, fanciful costumes, and dramatic voices kept the young children watching the show enthralled with wonderment.
The tales run the gambit, The Emperor's New Clothes, The Fisherman and his Wife, Little Red Cap, The Princess and the Pea, and Rumelstiltskin. Each story has a lesson the children can learn, while still being fun and entertaining. Audience interaction is also a big part of this show, the kids get to pick the order of the performance.
Once Upon A Time plays Saturdays at 2:00pm, January 15th through February 12th. Tickets are $15.00 (adults) and $10.00 (ages 13 and under) and may be reserved online at www.roxyregionaltheatre.org, by phone at 931-645-7699, or at the theatre during regular box office hours (9:00am-2:00pm, weekdays).
Even if you are an adult with no kids, watching this show is a great way to spend an evening.
Photo Gallery
The Stories
THE EMPEROR'S NEW CLOTHES
Narrator …………………………….….…… Keith Patrick McCoy
Emperor …………………………..…………………… Ryan Bowie
Prime Minister ………….………….………. Keith Patrick McCoy
Chancellor ………………………..……………… Travis Kendrick
Snip …………………………….…………………….. Roslyn Seale
Snap ………………………….………………………… Faith Boles
THE FISHERMAN AND HIS WIFE
Narrator ……………………………………. Keith Patrick McCoy
Wife ………………………………………………….. Roslyn Seale
Fisherman ……………………………………………. Ryan Bowie
Flounder ………………………………………… Travis Kendrick
LITTLE RED CAP
Wolf ………………………………………………. Travis Kendrick
Little Red Cap ………..……………………………… Roslyn Seale
Grandmother …………….…………………………… Ryan Bowie
Mother …………………………………………………. Faith Boles
Hugo the Huntsman ……..……………….. Keith Patrick McCoy
THE PRINCESS AND THE PEA
Narrator ……………………………………. Keith Patrick McCoy
Princess ………………………………………………. Roslyn Seale
Queen …………………………………………………… Faith Boles
King ………………………….…………………… Travis Kendrick
Prime Minister …………………………….. Keith Patrick McCoy
Chancellor ……………………………………………. Ryan Bowie
RUMPELSTILTSKIN
Father …………………..…..…….………… Keith Patrick McCoy
Girl ……………………….………….………………….. Faith Boles
King ……………………….……….………………….. Ryan Bowie
Little Man ……………………….….……………. Travis Kendrick
Messenger ……………………………….…………… Roslyn Seale
This production is presented without an intermission.
About the Company
Faith Boles feels so blessed to be making her Roxy debut this season. A native of Savannah, Georgia, Faith received her B.F.A.in Music Theatre from Shenandoah Conservatory. She was last seen as The Narrator in Joseph and the Amazing Technicolor Dreamcoat at the Miracle Theater in Pigeon Forge, TN. Some of Faith's past roles include: Motor Mouth Maybelle (Hairspray), Jewel (The Best Little Whorehouse in Texas), B.J (Smokey Joe's Café), Mama Morton (Chicago), and Asaka (Once on This Island). Faith would like to thank her family and friends for their ongoing support. But, most importantly, God for being her theatre agent. (Jeremiah 29:11)
Ryan Bowie is excited to return to the Roxy stage for the 28th season. Ryan was most recently seen at the Roxy playing Jacob Marley in A Christmas Carol, following appearances in Around the World in 80 Days, Dracula (Jonathan Harker), Into the Woods (The Baker) and Forever Plaid (Jinx). Other professional credits include Jesus in Godspell and Hamilton in the NYC premier of Dotty Dot: A New Children's Musical, Freddy in My Fair Lady (Midwest), Jonas in The Giver (Chicago), Ryan in High School Musical (Midwest), Jack Chesney in Charlie's Aunt (Midwest), Dick in Dames at Sea (Maryland), J. Pierpont Finch in How to Succeed… (New York), and Matt in The Fantasticks (New York – tour). Training: Frostburg State University – BA Theatre: Acting & BA Music: Vocal Performance. Ryan will return to the Roxy stage throughout the 28th Season and is especially excited to be directing and choreographing Ain't Misbehavin' in the Spring. Special thanks to Mom, Dad, Samantha, Freddy, Tom, John, Adam and this wonderful cast. Stay up to date at www.ryanbowie.com.
Travis Kendrick is super-excited to be a part of Once Upon A Time, following appearances in A Christmas Carol (Fezziwig, Christmas Present, Mrs. Dilber, Schoolmaster), Around the World in 80 Days (Passepartout) and Dracula: The Musical (Arthur Holmwood). Previously, Travis completed a sold-out New York City run of Flappers and Filosofers (Clark/choreographer, Rag 'N Bone Theatre Company), a new work based on F. Scott Fitzgerald's short stories. Some of his favorite credits include: Peter Pan (Nibs, Gretna Theatre), High School Musical (Zeke Baylor, Maples Repertory Theatre), Big River (Ben Rogers, Loessin Summer Theatre), Anything Goes (Steward, Barksdale Theatre), and Ragtime (Harry Houdini, Pittsburgh Playhouse). Travis received his training at Point Park University's Conservatory of Performing Arts with a B.F.A. in Musical Theatre. Stay up to date at www.traviskendrick.com.
Keith Patrick McCoy is delighted to return for Once Upon A Time, following his Roxy debut earlier in the season as Professor Van Helsing in Dracula. Originally from Portsmouth, Virginia, Keith has performed in summer stock companies, theme park productions, national tours, and regional theatres across the United States. Favorite roles include Keno in The Full Monty, Jafar in Aladdin, Dryer/Bus in Caroline or Change, and Jim in Big River. Following this production, Keith will be staying on for Ain't Misbehavin', Hamlet and Bea(u)tiful in the Extreme. To be gainfully employed in an area of work you love is truly a blessing.
Roslyn Seale is thrilled to be making her debut at the Roxy. Past regional credits include Joanie in The Full Monty, Mrs. Pugh in Annie, Gospel Singer in Violet and Young Irene in Bubbling Brown Sugar. Born and raised in Brooklyn, NY she has appeared in many New York shows including the 2009 International CringeFest, Pippin, and Anansi the Trickster Spider. She also appeared in the tour of Fire On The Mountain and is a singer on The Spirit of NY/NJ Cruise Line. Thanks be to God for his blessings, Mom for supporting me and to all my friends and family for always believing!
John McDonald is the founder and Artistic Director of the Roxy Regional Theatre. A graduate of the American Academy of Dramatic Arts, as an actor John has worked with the New York Shakespeare Festival, Macbeth with James Earl Jones; Long Wharf Theatre, A Lion in Winter with Ralph Waite; and productions of Long Days Journey Into Night (James); Macbeth (Macbeth); Who's Afraid of Virginia Woolf? (George); and numerous others. As an instructor, he has taught theatre at the American Academy, The Rhodes School, The Dwight School, Hewitt, and is the creator of the Roxy Saturday Workshop, an acting program for young performers. Writing and production credits include, among others, Jekyll and Hyde, The Red Badge of Courage, Dorothy Dix: Speaks!, Nora Witzel: A Very Curious Fella, The Picture of Dorian Gray, All Quiet on the Western Front, Poe Unearthed and Headin' South, Goin' North, a staged reading for the Fourth Annual Clarksville Writers Conference.
Tom Thayer has been Managing Director of the Roxy Regional Theatre since its inception in 1983. Training includes Austin Peay State University and Lambuth College, and he is a graduate of the American Musical and Dramatic Academy, NYC. While living in New York, he worked as a public relations liaison for the Metropolitan Museum of Art, created and taught dance programs at the Dwight School and created and taught young dramatics for the Rhodes School. He is the founder of the Clarksville Theatre Guild, as well as the Roxy Regional Theatre, and has performed off-Broadway as well as throughout the South. With Artistic Director John McDonald, he created the Roxy's Professional Company and serves as a director of the Summer Drama Camp, which is sponsored in conjunction with the Clarksville-Montgomery County Parks and Recreation Dept. He was awarded the Ovation Award from the Austin Peay State University Center of Creative Arts as well as the Point of Pride Award from the Clarksville-Montgomery County Board of Education and a Lifetime Achievement Award from the Clarksville Arts & Heritage Development Council.
Adam Kurtz (Production Stage Manager / Company Manager / Sound Designer) is a native of Detroit, Michigan. He is a graduate of Wayne State University, where he received a BFA in Theatre in Design / Technology, specializing in Stage Management. This is his third season at the Roxy, and he is excited to be back. His previous Roxy credits include A Christmas Carol, Altar Boyz, Macbeth, All Quiet on the Western Front, CATS, RENT, The 25th Annual Putnam County Spelling Bee, The Beauty Queen of Leenane, A Streetcar Named Desire, Ring of Fire, Of Mice and Men, Forever Plaid, Into the Woods, Shout, Dracula and Around the World in 80 Days, among others. While here at the Roxy, Adam has also had the opportunity and honor to function as the Sound Designer for numerous productions. He has also been able to function as the Lighting Designer from time to time. He steps into a new area this year as Projection Designer for various upcoming productions. Adam would like to thank Tom and John for this wonderful opportunity and his family (Mom, Dad, Matthew, Lucky the dog, Aunt Nancy & Aunt Karen) for all of their love, support and encouragement.