Written by U.S. Army Cpl. Kam Gerohimos
Task Force Shooter, 10th Combat Aviation Brigade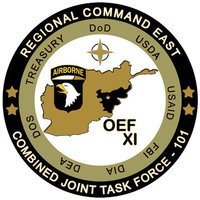 Khost Province, Afghanistan – It was a solemn day at Forward Operating Base Salerno January 25th for cavalrymen of Task Force Shooter. As aviators climbed into their cockpits, they placed their Stetsons on the dashboard of their aircraft to commemorate the memory of the cavalry troopers of call signs Adversary 11 and Adversary 22 who lost their lives in Kirkuk, Iraq, January 25th, 2009.
"One side of my brain feels it happened two years ago while the other side seems to think it happened only yesterday," said U.S. Army Chief Warrant Officer 5 Timothy French of Pittsburgh, the senior OH-58D Standardization Instructor Pilot of TF Shooter. "I really miss them."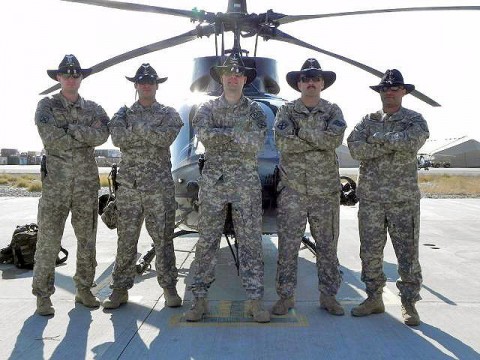 In the early morning hours of that tragic day, Adversary 11 and Adversary 22 were shot down during a combat operation. The four aviators who lost their lives were U.S. Army Chief Warrant Officer 3 Phillip Windorski, U.S. Army Chief Warrant Officer 2 Joshua Tillery, U.S. Army Chief Warrant Officer 2 Benjamin Todd, and U.S. Army Chief Warrant Officer 2 Matthew Kelley. All were OH-58D Kiowa pilots of Bravo Troop, 6th Squadron, 6th Cavalry Regiment.
Commemorating the two-year anniversary of their loss brings many memories to those who served with them.
One of the fallen pilots made a lasting impression on a young officer and new pilot.
"Phil was one of the first instructor pilots I met as well as the first I flew with when arriving to the unit," said U.S. Army Capt. Zachary Valentine of Cleveland. "He was a professional in and out of the cockpit. He was a very hard worker and most importantly, a family man."
To others, each of them had unique attributes which benefitted the unit. The loss of which made it difficult to rebound.
"A tragedy that massive was almost impossible to deal with," said U.S. Army Chief Warrant Officer 2 Bobby Guffey of Scottsboro, AL, a Kiowa pilot with Bravo Troop. "With Phil's leadership, the troop was strong. With Josh's comedy, we all found good memories. With Ben's quiet professionalism, we held it together. And with Matt's faith, we found God."
The current Bravo Troop commander highlighted the heroic legacy the fallen pilots left behind.
"Remembering our fallen comrades is difficult," said U.S. Army Maj. Luke Schmidt, the current Bravo Troop commander and a native of Humphrey, NE, "but it is important to never forget the blood, sweat and tears they shed for our country and the ultimate sacrifice they made in maintaining our freedom and a better way of life for the Iraqi people."