APSU Men's Baseball

Clarksville, TN – Sitting down with Austin Peay baseball head coach Gary McClure two weeks before his squad takes the field in its first regular-season competition, it becomes evident he faces a quandary with the team's pitching staff. Granted, it's a problem most coaches would enjoy having entering their campaign. That problem? A deep staff that enters the 2011 campaign with few injuries.
The Governors have long been regarded as a team where you have to contend with its pitching staff. The 2005 and 2007 Ohio Valley Conference championship teams were built on the foundation of strong pitching staffs where the weekend rotation was a certainty and the bullpen came in to shut the door.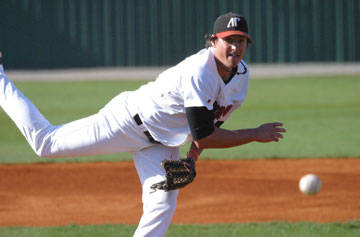 However, the past two seasons Austin Peay's coaching staff has had to battle with a pitching staff that has been bruised and battered before the season began and a lack of depth that made getting to a closer like tip-toeing through a minefield.
"We've had injuries to our best guys and haven't had the depth the past few seasons," said McClure. "Our depth is probably better than it's ever been. I feel good about our pitching staff."
This season, the Govs bring 17 pitchers into the 2011 campaign – relieving the team's depth issue. The better question is who will step up to fill the five starting spots, in particular who will be the Govs three weekend starters when conference play starts in mid-March?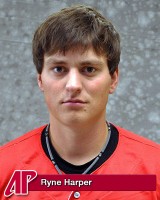 McClure freely admits he has seven pitchers on staff who reasonably could fill one of the team's starting roles. However, only three starting pitchers – senior Ryne Harper, senior Eric Davis and junior Jeremy Dobbs – return from last season's squad and only one starter (Harper) made significant weekend starts. Also returning after missing the 2010 season is senior Jack Snodgrass (injury). Throw in redshirt freshman Alex Belew and two junior college transfers – Zach Toney and Andy Cox – and the Govs have plenty of options entering the season.
"It sounds like we have too many guys, but I know that's not the case," said McClure. "You never have enough starting pitching. Things happen, guys don't throw as well as they could. But we've got some guys who are going to challenge each other to throw on the weekend.
"They're going to have to go out there and throw well because there's someone there really close who, given the chance, might be better in a game situation. It will be competitive, which will help our team. At the same time we have to make guys comfortable once we decide what our rotation will be."
The old-hand of the group is right-hander Harper, a four-year starter who has seen his ups-and-downs. Last season, he struggled through a persistent injury that saw him miss two weeks late in the conference slate. Harper posted career-lows in appearances (10) and innings pitched (33.2) while his ERA (5.35) ballooned. However, McClure believes Harper will return to his 2009 form which saw him strike out 54 batters in 59 innings.
"The difference is night and day for Ryne," said McClure. "He has always been very good and capable but hasn't been able to stay healthy. This year he's been healthy and good. We believe he's going to be a big part of our staff in the weekend rotation."
 
Davis, a right-handed hurler, joined the Govs starting rotation midway through the season and finished as the Govs No. 3 weekend starter – losing in his first OVC start at Southeast Missouri before winning the season finale against UT Martin.
"Eric is throwing the ball well right now," McClure said. "He was a midweek guy for us last year but has stepped it up a lot this year and has a chance to be in the weekend rotation."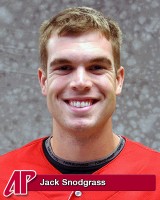 The left-handed Dobbs enters his third season on the Govs pitching staff after battling through inconsistencies his first two seasons. He did not enjoy much success in his four 2010 starts and was a middle reliever the bulk of the campaign. However, Dobbs pieced together an impressive fall campaign and earned the recognition from his teammates who voted him the team's No. 1 pitcher during the fall.
"Jeremy had a tremendous fall," said McClure. "He's going to be in our rotation. Jeremy's had different situations evolve during his career that have slowed his development. But we know he's capable and he's really come into his own this year."
Snodgrass , another left-hander, returns to the Govs after arm surgery in 2010. He made five OVC starts in 2009 – including a start in each of the three weekend roles – and finished that campaign with a 3-3 mark. Belew, also a southpaw, will battle for a starting spot after taking a freshman redshirt in 2009.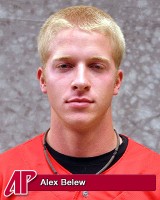 "Jack has come back from surgery and been awesome," McClure said. "He's better than he's ever been since he joined us. He's going to make a run at our top three. Alex is another guy we redshirted last season who has come back and pitched really well."
Leading the group of three newcomers is junior transfer Zach Toney who compiled a 10-1 mark and 2.67 ERA at Jones County Junior College last season. A hard-throwing lefty, he has been clocked throwing in the low 90s during the preseason.
"Zach without question is going to challenge for one of the rotation spots," said McClure. "He was a highly-touted recruit and someone we thought could be our No. 1 this year."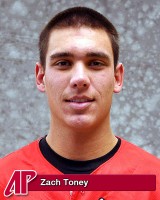 Andy Cox will begin the season recuperating from off-season surgery but is expected to be available as the Govs enter the OVC schedule. He posted a 4-3 record last season at Iowa Central Community College, striking out 31 over 46 innings.
"Andy is a big strong right-hander who really knows how to pitch and throws it up there with great velocity," McClure said. "He's a smart pitcher who is aware of the situation and can hit his spots regularly."
 
The challenge the past two seasons has been getting from the starter to the closer. This season the Govs will attack that challenge with a roster of nine pitchers specifically in place to provide middle relief. Three of those middle relievers return from last season's squad – junior Chuck Edlin, senior Dylan Ray and junior Lucas Anderson. Of the six newcomers joining the fray,  three will only see time on the mound – junior Mark Allen Bounds, freshman Shawn Zabriskie and junior Zane Leffew – and the other three will be available from their outfield position – freshmen Rolando Gautier, Dylan Riner and Hunter Smith.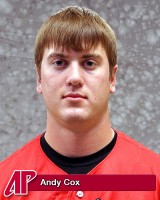 "We've got some pretty good guys to come out of the pen," said McClure. "Some of those possible starters will end up pitching on the weekend in a relief role. We want to throw our best guys on the weekends.
"Zane Leffew could start, he's a big strong kid, but I think he's more suited to a relief role. Dylan Ray is back after doing a great job for us last year. We hope to get that kind of success from him again. Lucas Anderson has thrown pretty dog-gone good this year and I believe will help us this year."
All those arms will funnel the game towards the Govs' closer this season, right-handed junior transfer Mike Hebert. Last season he posted six saves and a 2.92 ERA at McCook Community College. This season, Austin Peay will turn to Hebert, a side-armer in the mold of Klint Rommel who enjoyed success in the same role in the early part of this decade.
"We believe Mike is our closer this season," said McClure. "He is a side-arm guy that throws with good velocity. He has great control – probably the best control of a side-arm guy since Rommel. He loves the role and he doesn't have a care in the world. He fits the role perfectly."
The Govs enter the 2011 campaign armed to teeth in an effort to avoid the problems that have derailed the past two campaigns. The challenge now is finding the right combination of arms to move back into the thick of the OVC race. Austin Peay begins the search for that answer when it opens the 2011 slate with a 3:00pm, Friday contest against Valparaiso.