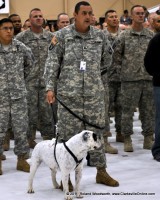 Fort Campbell, KY – It was a midnight arrival for  for soldiers with the 1st Brigade Combat Team. After a short delay friends and family members cheered as they spotted the planes lights in the dark sky.
Soldiers made their way off the plane passing a few of the wounder soldiers from their unit who came to welcome them home from a year long deployment to Afghanistan.
Once formed up, the hanger doors opened wide, Soldiers marched into the hanger led by the brigade mascot Bastogne and the wounded soldiers mixed into the ranks.
Once inside the hanger Brigadier General Jeffrey N. Colt welcomed everyone home in a short speech to the soldiers with standing room only as friends and family packed Hanger 3.  Afterwards everyone was allowed 15 minutes of family time before heading back to their unit to turn in their gear.
Ashley Barts and three of her children were more than ready to welcome home SGT Jeremy Barts. They couple look forward to getting back to Indiana to pick up their other four children who didn't make the trip to Fort Campbell.
If you wish to attend a Welcome Home Ceremony, check the flight schedules online, as times are subject to change at any time. When arriving to Fort Campbell, enter via Gate 7; if you don't have installation stickers on your vehicle, you will be required to get a visitor pass. From there just follow the signs to the ceremony parking. Waiting buses transport the Family members safely to the hanger.