Woman's Full Contact Football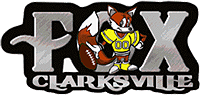 Clarksville, TN – The Fox are calling this game their "Military Appreciation Game" to say THANK YOU to the active and retired military and their families for all their sacrifices and hard work to keep our country safe. "US Military Kills Usama Bin Laden" These soldiers stand guard on far away shores and deserts so that we here at home can sleep nights in peace knowing we will be safe. 
It is not much, but the Fox would like to invite ALL active and retired military personal and their families to the game this Saturday night as our guest FREE.
Saturday evening May 7th, the Fox will host the Chattanooga Locomotion in a woman's full contact football game with gates opening at 6:00pm and kickoff at 7:00pm. The game takes place at the Northwest Highschool Football field.
Tickets are $8.00 with kids 5 and under FREE.
List of Events:
Tailgating in the parking lot. Bring your BBQ and have fun. Bring the family and cookout all afternoon, play games, and be early for the game. I will have my smoker my dad custom built for me and the Fox there going all day.
Corn-Hole games all afternoon. I will have Three games set up for those wanting to play with them. First come First serve.
Gates open at 6:00pm.
Inflatables for the kids of all ages to play on provided by Go Jump Inc. out of Pleasant View, TN.
Concessions provided by NWHS Football Boosters with hotdogs, hamburgers, sodas, candy, Pizza, and much more food and drinks for everyone.
At 6:45pm, Military Appreciation celebration for some active military who play for the Fox now and in the past, recognition of the military, followed by the National Anthem performed.
Kick Off with the Clarksville Fox hosting the Chattanooga Locomotion in an IWFL Woman's Full Contact Football Game. Yes Real Football !!
Print the coupon below for a Buy One Get One Free ticket in to the game Saturday.