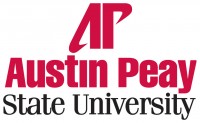 Clarksville, TN – Not a lot of options exist for college students wanting to study dendrochronology – the examination of tree rings to determine environmental variables such as droughts or fires that occurred centuries ago. Austin Peay State University has a Biogeography, Environment and Tree-ring Laboratory (BETR Lab) to conduct this type of research, but it's in the minority compared to the rest of the nation.
"Most universities in this country don't have a tree-ring lab," Dr. Christopher Gentry, BETR lab director and assistant professor of geography at APSU, said.
It's an unfortunate reality given the field's importance in understanding the history and natural growth patterns of our country's forests. But there's hope for the students eager to learn. Every summer, Gentry and his colleagues from Indiana State University, the University of Tennessee-Knoxville and the Rocky Mountain Tree-Ring Research hold an intensive nine-day field research course known as the North American Dendroecological Fieldweek.
"We have about 50 participants from pretty much all walks of professional and academic life," Gentry said. "For the most part, they're a mix of students and faculty members from around the nation, and we split up into five or six research project groups, led by the top dendrochronolgists in the nation."
For students attending universities without dendrochronology labs, the field week may be the only time they get to conduct this type of research. The program provides an important service to furthering this field of research, training some 1,000 dendrochronologists over the years, and a new $275,000 National Science Foundation Grant, awarded to Gentry and his colleagues, will ensure that the fieldweek continues through 2015.
"It'll provide money to maintain the scholarships, to help with the logistical cost of things, but also to provide some of the technology and some of the field equipment to keep this process going for five years," Gentry said.
This year's fieldweek will take place at the Mountain Lake Biological Station in Pembroke, VA, where participants will conduct research on topics such as the fire history, wood anatomy, dendroarchaeology and dendroclimatology.
"We are giving the ability for schools that don't have labs or don't have a class, to have their students trained," Gentry said. "And they're not all coming from geography or geosciences departments. We have biology students, forestry students, and geology students that come to learn this information."
For more information on the fieldweek or APSU's BETR Lab, contact Gentry at gentryc@apsu.edu or visit www.apsu.edu/betrlab.