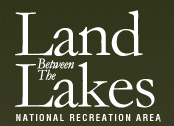 Golden Pond, KY – Camping and lake access opportunities are returning to Land Between The Lakes (LBL) National Recreation Area as flood waters recede.  Lake levels for Lake Barkley and Kentucky Lake are currently at 362.3 feet and dropping. 
The majority of campsites are open at Energy Lake Campground; all sites will open by May 20th. Hillman Ferry Campground and Piney Campground expect to open most walk-in sites and reservation sites on May 20th. Each seasonal camper at Hillman Ferry and Piney will be contacted individually as their site becomes available. Areas C, D, and E at Wranglers Campground are open for reservations. There are a very limited amount of walk-in sites available (call campground for availability, 270-924-2200).  Wranglers Riding Stables is open, as well as a significant portion of horseback riding trails. Day-use riding is currently available. Visitors can make camping reservations by visiting www.lbl.org or calling 800-525-7077.
Turkey Bay Off-Highway Vehicle Area is anticipating re-opening on Saturday, May 21st, at 8:00am, provided we do not receive large amounts of rainfall between now and then. Management encourages visitors to "Call Before You Haul" at 270-924-2000 for current trail information. Camping will be limited due to current lake levels. 
A majority of LBL boat ramps, backcountry areas, lakeside campsites, trails, and day-use areas are open. Activities such as picnicking and hiking are also available in many areas. Open day-use facilities include North Welcome Station, Nature Station, Elk & Bison Prairie, Golden Pond Visitor Center and Planetarium, Golden Pond Target Range, The Homeplace, South Bison Range, and South Welcome Station. Due to flooding and/or road conditions, access may temporarily be restricted to some cemeteries. 
Please check the Alerts & Notices page at www.lbl.org for current information, open/closed lists, and details before coming to LBL. Some areas remain barricaded and closed for visitor safety. Observe all closures for your safety. Citations will be issued to anyone found beyond barricaded areas.