The Young Daughters of Destiny in conjunction with the Convient Shopper Magazine are putting on a production of Stand at the Roxy Regional Theatre on August 6th 2011 at 5:00pm. The show will be directed by Treva Gordon and  features a youth cast with kids from ages 5 to 25  playing the parts. The play deals deals with various crisis that the kids may face in their own lives such as:Teen Preganacy, Bullying, Suicide, and includes an important message for parents, "Why don't you listen to me."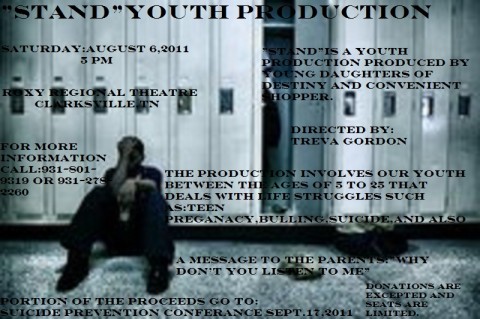 The show is free however donations to the Young Daughters of Destiny are being encouraged. This is a play that you don't want to miss.
A portion of the proceeds go to the Suicide Prevention Conference that is scheduled for September 17th, 2011.
For more information call 931-801-9319 or 931-278-2260
About Penny Russell
Hi I am Penny Russell. I was born and raised in Clarksville,Tn. I go to college at Daymar and majoring in Paralegal degree and then after college going to law school. My goal is to help the Youth in Clarksville. I am Christian and Go to Bethel Baptist church in Cunningham,Tn. I have been married for 11 years to a great man and we have 2 great kids. I love to write about the great things people do in their community and helping others.
Sections
Events
Topics
Convenient Shopper Magazine, Roxy Regional Theatre, Treva Gordon, Young Daughters of Destiny