Just last week, in the midst of the Barge Port controversy, the city council had the time to debate how the Mayor casts her vote.
You may recall, the powers of the Mayor were the major sticking point of our revised city charter getting support from our lackluster state representatives. They focused on the Mayor's veto power, his or her ability to have too much power, and control legislation.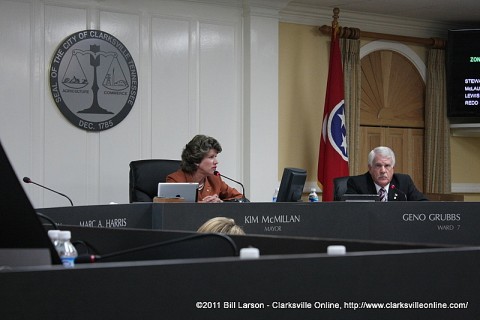 At the time, Johnny Piper was Mayor, and we all know the history between him, state representaives Joe Pitts, and Curtis Johnson. They were NEVER going to do anything for Clarksville that would benefit Piper, and that's what we got.
Now, with a new Mayor, and a better relationship with our state legislators, the local city council has picked a fight with Kim McMillan. It seems we have always had this kind of relationship in city government. The Mayor only has to count to six, and that's been the frustration.
The Mayor DOES control the direction of our city, and that's ok with me, because that's why they were elected. It's the city council's responsibility to keep the checks and balances in place, but ultimately, the Mayor will be accountable for where she leads us.
The most recent example of this relationship is an ordinance that would have required the Mayor to vote when the rest of the council votes, and not AFTER all votes were cast.
This is a petty attempt to change the power of the Mayor, and the way she casts her vote. The Mayor is ultimately responsible for what our city government does, or doesn't do, and if the Mayor can influence legislation that they agree, or disagree on, then they should have that power. I don't think we can have the city council "diluting" the power of the Mayor.
Councilmen and women represent a segment of our community, while the Mayor represents us all. I think the citizens are ready for a better, more productive relationship in city government. Oh, by the way, the proposed ordinance changing the way the Mayor votes was defeated, and Mayor McMillan broke a 6-6 tie to do it. Just my two cents.