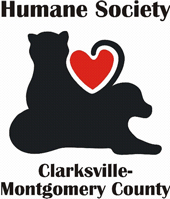 Clarksville, TN – Friday night's Spayghetti Dinner was a delicious success, raising more than $ 1,800 for the Humane Society's Spay/Neuter campaign. Special thanks to the First Presbyterian Congregational Life Commitee, George the Cake Guy, The Sweetest Batch Cupcakery,  Sango Florist, and all the wonderful volunteers who helped make the night such a success.
The Humane Society is collecting funds in preparation for opening Clarksville's first low cost, high volume spay neuter clinic, which will offer cat spay/ neuters for $40.00 and $30.00, and dog spay/neuters for $50.00 and $40.00, regardless of income or the weight of the animal.
The Humane Alliance, a PetsMart Charity funded organization, will pay for and supply medical equipment and training for clinic personnel, and the remainder of the capital will come from private donors and fundrasing campaigns such as Spayghetti. Once in operation, the clinic will be self sustaining!
 
Mark your calendars for the Humane Society's 5th annual Wags to Witches Ball, on Saturday night October 29th. There will be a costume contest, silent auction, great food and entertainment, with all proceeds going to the Humane Society of Clarksville Tennessee!