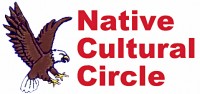 Adams, TN – The 14th Annual Intertribal Powwow presented by the Native Cultural Circle (NCC) of Clarksville presents Native Peoples of America showing pride in their culture and in being heroes who keep America free. Great emphasis is shown in honoring all Veterans of the United States Armed Forces as well as police officers, firefighters, and emergency medical personnel.
The first entry into the dance circle was  the participants in the Port Royal Fourth Annual Commemorative Trail of Tears Walk. The walk is always led by elder members of the tribes. The elders of the tribes are shown the highest respect. The walkers enter the powwow circle for an honor song prior to Grand Entry.
The old road bed along the northern portion of Port Royal Historic Area has received Trail of Tears certification from the national Park Service because it was the last stopping place in Tennessee as the Cherokee were herded into Kentucky.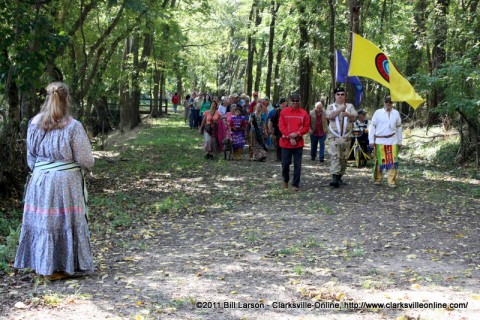 A smudging ceremony was held by arena director for the dancers in order to purify them before they entered the dance circle. A vessel is filled with white sage that lit on fire. The Dancers undergo this ceremony to remind them to leave any negativity outside of the dance circle
The Grand Entry into the Cultural Circle is led always by veterans. This year Clyde Maize and Charles Page were Head Veterans. The Maize family Bear Staff was carried in a place of honor alongside the American flag during Grand Entry . Veterans of the U.S. Army, Navy and Marine Corps carried the Tennessee State flag, the flag of the Cherokee Nation, the MIA/POW flag, and the Earth flag.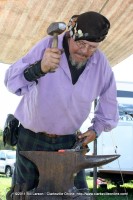 Members of many tribes followed, each wearing regalia of his or her choice. The colorful ceremony was one of respect and pride. Traditional Regalia features colorful clothing adorned with feathers, fringe, fur, bones, beads, shells, jingles, porcupine quills, otter skin, ribbons and rattles.
The Master of Ceremonies Faron Weeks then announced the solemn posting of the flags. Accompanied by the White Horse Singers, who are served as the Host Drum, and Southern Echo who served as the Guest Drum, the salute to Veterans was performed.
Clyde Gaskins prayed to the Creator with words of inclusion for all. "We are standing here on the face of Mother Earth. There is one Creator but we call Him by many names.. As I put tobacco on the Earth, let us ask for blessings. We always receive blessings but it is good to ask. We ask to be forgiven our trespasses; we are always forgiven but it is good to ask. We ask to forgive ourselves because for many of us, we are hardest on ourselves and are least likely to forgive our own sins. Let us remember that we are brothers of the four-leggeds, the wingeds, and those who swim. We are all one people on Mother Earth. We live on one planet and share one future."
Head Man for this year's Powwow was Richard "Sky Bear" Smith.  The Head Lady responsibilities were shared by Cynde Cross, Mayola Maize, and Jill Smith.  Eaglehorse Twodog selected as the 2011-2012 Powwow Princess.  The Arena Director was Bob "Two Bulls" Tulley.
Dances include for the women Buckskin, Cloth, Jingle, and Fancy Shawl. For the Men they are Men's Traditional, Straight or Southern Straight, Grass Dance, and Fancy Dancing. Each dance has specific regalia and dance steps. There are also a number of social dances that feature men and women together.
Philenese Slaughter, Cherokee and librarian at Austin Peay State University, revealed that preparation for each year's powwow begins 13 months before the actual event. Individuals who serve as Head Man, Head Lady, etc., must be approached and asked to perform these positions. Vendors are engaged throughout the year. The powwow is held is private land and its use must be reserved. It is a daunting task that the Powwow Committee tackles throughout the year.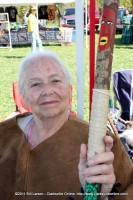 One of the Elders and a participant at the Trail of Tears walk this year was Many Horses, a woman nominated by her tribe as Tribal Mother.
Many Horses, a Cherokee, was born in Delaware but she reports that "the Creator directed me to Carroll County, Tennessee in 1987." A horse trainer, she brought with her "many horses" and therefore this phrase became her name. "I learned to train horses by hanging around horse trainers when I was a kid and keeping my mouth shut so that I could learn from them," she says.
She was a friend of Frank T. Hawkins on whose life the movie Hidalgo was based, Many Horses said that Hawkins used to play the harmonica for her and was a "wonderful man." They met in Delaware where he was training a standard stallion and became friends through mutual interests.
Many Horses is the grandmother of Twodog, who is Chief of the United Western Lanape Nation. From Franklin, Kentucky, Two Dog is the father of Eaglehorse Twodog, the young teenager who was made Powwow Princess for 2011 during a ceremony on Saturday. Although Many Horses has to be in a wheelchair for much of the time due to a nerve condition, she rose to stand in honor of her great-granddaughter as Eaglehorse walked the circle after being named Princess.
A cousin of Many Horses and one of the expert jewelry makers displaying her beadwork at the powwow was Loreen Kemp of Paris Landing. Her business, Shoshone Princess, can be found on Facebook and on Ebay. Ms. Kemp is a Ute Indian from the Uintah Basin of Utah. Mother of seven children, she reports that her "sixth grandmother" is the famous Shoshone Princess Sacagewea. Ms. Kemp has been making jewelry for 45 years.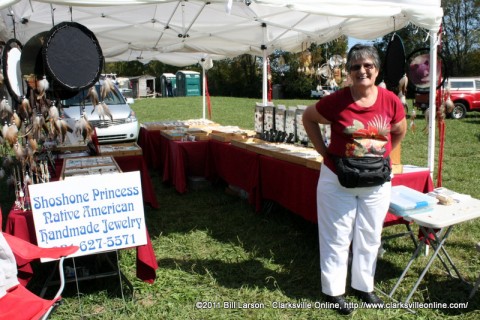 Other vendors at the powwow included makers of all types of weapons (knives, bows, arrows, etc.), a blacksmith, clothing, and food.
A silent auction was held that included Native American books, dolls, and other items for sale.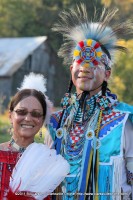 Clarksville's Native Cultural Circle donates books on Native American Culture to 21 local elementary school libraries, along with the St. Mary's Catholic School library using the profits from the powwow each year. Books donated to date include The Great Ball Game of the Birds and Animals, How Medicine Came to the People, How Rabbit Lost His Tail, Rabbit and the Bears, Rabbit and the Wolves, Rabbit Goes Duck Hunting and The Opossum's Tale.
The Native Cultural Circle expresses their appreciation to the following people f0r their help in making this year's event a reality: Clarksville Online and Discover Clarksville, Charlie Merritt, Clyde Maize, Graham and Mary Harvey, Neva and David Stephens, Niki Laughing Otter, Wendell Clark and Maria Lowery, Thomas Hare, Dan and Donna Johnson, David Britton and family. Other contributors whose help was greatly appreciated were Coca Cola/Dr. Pepper Bottling Company of Clarksville, Crossroads Christian Fellowship, Friends of Port Royal, Port Royal Cafe, and the Hawaiian Civic Club.
Sponsors this year included Chi-Town Hotdogs, Port Royal Cafe, K9 Psychology Center, Dr. James Cossingham, Crossroads Christian Fellowship, Marcy's Sideroad Restaurant, Lynne's Custom Framing, Atsilu Silver by Cyndee Cross, Busy Beads & Moore, Sam's Club, Walmart on Wilma Ruldolph Blvd, Round Robin Concessions, Home Depot,  Red River Canoe Inc., Cumberland Grille, Aeneas Internet & Telephone, Nick's Concrete Services, Animal Care Group, State Rep. Joe Pitts, Gateway Towing & Recovery, Town and Country Drugs. Paul & Jackie's Restaurant, St. Bethlehem Chiropractic Clinic, Vista Small Engine, Haller Compelte Automotive Repair, Clarksville Auto Upholstery,  Wooten's Printing Inc.
The Native Cultural Circle's Powwow is held in Adams Tennessee, adjacent to Port Royal State Park on the second weekend of October. For more information about the Native Cultural Circle, becoming a sponsor of the event, or if you are interested in a vendor spot contact Paul Slaughter at
Photo Gallery