Essay Written by Connor Haas of Rossview Middle School
As part of the Clarksville Kiwanis Club's Memories of Service and Sacrifice Project "Interview a Veteran" Contest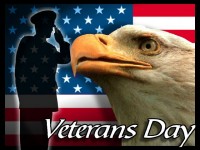 "The Army is a lifestyle filled with duty, honor and sacrifice. I knew that when I signed up back in 1988, and I don't expect it to change after I retire in 2014″ said Lieutenant Colonel Darin Haas. He is an officer in the United States Army that has missed over four years of time with his wife and children because of his service to our nation. He is a Human Resources Specialist that has traveled all over the world in defense of the United States of America.
Lieutenant Colonel Haas deployed  four times between March of 2003 and the present day in support of the country's wars on terrorism. The nation has asked Lieutenant Colonel Haas to leave his family on more than four occasions to deploy to Iraq,  Afghanistan, and Korea in support of their freedom between March of 2003 and March of 2011.
Lieutenant Colonel Haas first deployed to Iraq as a Captain in March of 2003 for
Operation Iraqi Freedom while in the Third Infantry Division based out of Fort Stewart Georgia. While he was there he was responsible for casualty tracking, mail operations, and finance operations for over twenty thousand soldiers.
Lieutenant Colonel Haas said that it was easier being in convoys around gunfire and mortar attacks on war-torn roads than it was being away from his almost three-year old son Connor and his pregnant wife Alissa.  He went on to say that he felt blessed that he was able to make it back in time to see his daughter Caitlin born so that his Battalion Commander didn't have to be at the hospital as his replacement.
Two years later, after being promoted to Major, Lieutenant Colonel Haas was deployed to Iraq again in an effort to maintain the peace in the country. This time his focus was on providing postal support to over fifty thousand soldiers as they assisted the Iraqi Army in rooting out the terrorists that threatened security in Iraq, and the world.
This time he left his wife and all three of his children behind for an entire year. His  youngest girl Claire, was only 4 months old when he left. "This was a hard deployment for me" Lieutenant Colonel Haas told me, "because I left my wife with three small children to take care of, and when I came back Claire was afraid of me. My wife was great when I got back" he continued, "she not only kept the family going, but she helped Claire and I form our father and daughter bond."
After two trips to Iraq, Lieutenant Colonel Haas was sent to Korea to assist in a fifty-year old alliance in the defense of freedom and democracy once again.
While in South Korea in 2008, Lieutenant Colonel Haas was in charge of all postal and finance support for over three thousand soldiers in the 501st Sustainment Brigade. Lieutenant Colonel Haas told me that "the Sustainment Brigade was stationed in Korea and partnered with two Korean Brigades that conducted joint exercises in order to maintain a high level of preparedness, in the event that North Korea followed through with their threats to attack South Korea."
He went on to say that "the Sustainment Brigade's mission was to provide supplies and ammunition to both United States forces and partner South Korean units."
Lieutenant Colonel Haas' last deployment took him to Afghanistan in May of 2010. "Afghanistan was my hardest deployment by far" he told me in our interview. "My mother was dying, and I had to leave my wife behind to take care of her and our children.
To make things worse, I had to assign soldiers by name to units and positions only to see the reports of their battle injuries come back sometimes within hours of their arrival.
I worked eighteen to twenty hour days for over four months and had very little contact with my family. I was emotionally drained within days of arrival." During this deployment he worked with Officers from the Afghan Army and taught them how to keep track of the number of personnel in their units, and how to provide postal and financial support to them as well.
"During this whole deployment we received rocket and mortar attacks daily. I was also was on the road with small arms fire, and Improvised explosive devices on more than three occasions. Still, being away from my family was the hardest part of all. You just cannot explain the emotional stress of battle combined with the longing to be with your family. The closest I can come is it feels like a professional boxer is hitting you in the stomach every day over and over again. That is why I plan on retiring in two years. I don't ever want to be away from my family again."
In conclusion, Lieutenant Colonel Haas has sewed his country with distinction while deployed to Iraq, Korea, and Afghanistan in defense of freedom on multiple occasions. He has also sacrificed a great deal physically and emotionally while he was gone. There is no doubt that being away from his family, and not being able to provide the emotional love and support that he wanted to from so far away were great sacrifices for both him and his family.