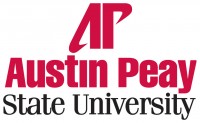 Clarksville, TN – Falls and fall-related injuries are common in adults older than 65. In fact, according to the Centers for Disease Control and Prevention, of the fall-related deaths that occurred in 2008, 82 percent of them were in adults 65 and older.
A more alarming fact than this is that older age groups sustain more fall-related injuries than younger age groups. In other words, adults older than 85 are more likely to sustain a fall, compared with those who are 65-74 years old.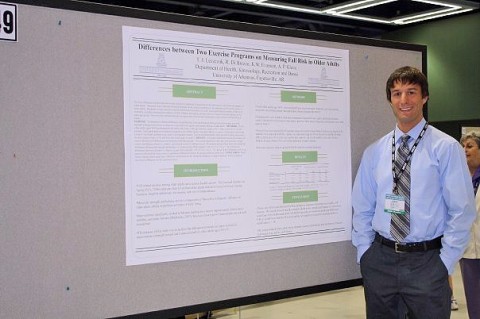 "As we age we notice a significant difference in the way that we walk," said Dr. Tim Leszczak, assistant professor of health and human performance at Austin Peay State University. "Many older adults will change their gait patterns due to a decrease in strength or flexibility, or some may be changing their gait due to a fear in falling."
One of the most noticeable changes is a decreased stride length, which causes older adults to shuffle their feet as they walk, Leszczak said.
In an effort to improve stride length and overall strength in a group of older adults, Leszczak created a high velocity resistance-training program for a group of 10 older adults in two local independent/dependent living facilities in Clarksville. The program lasted for 12 weeks, from July to October, and the participants exercised three times per week using various types of exercise equipment, such as medicine balls, weighted vests and ankle weights. 
Leszczak will share the outcomes of this program at the next Provost Lecture Series. He will present "Improving Function and Strength in Community Dwelling Older Adults Through High Velocity Resistance Training" from 3:00pm-4:30pm, Thursday, December 1st in the Morgan University Center, Room 303. All presentations in the Provost Lecture Series are free and open to the public.
With research interests in physical performance in aging adults, Leszczak previously taught as a graduate assistant at the University of Arkansas in Fayetteville. He is an instructor for a personal trainer workshop offered through the Aerobics and Fitness Association of America and holds memberships with the American College of Sports Medicine and the Aerobics and Fitness Association of America. In May 2010, Leszczak earned his doctoral degree, along with two certificates – one in gerontology and the other in educational statistics and research methods – from the University of Arkansas, where he also received his master's degree in exercise science. His bachelor's degree in accounting is from Rowan University in Glassboro, NJ.
Other sessions in the Provost Lecture Series also are planned for the academic year. All sessions are from 3:00pm-4:30pm in the MUC, Room 303 (unless noted otherwise) and include the following:
January 12th: Dr. Ellen Smyth, instructor of mathematics
January 19th: Dr. Ann Silverberg, professor of music
January 26th: Dr. Marsha Lyle-Gonga, assistant professor of political science
February 2nd: Dr. Rebecca Johansen, assistant professor of biology
February 9th: Dr. Sergei Markov, associate professor of biology
February 16th: Cynthia Marsh, professor of art
February 23rd: Dr. Christine Mathenge, associate professor of geology
March 1st: Dr. Robert Shelton, associate professor of chemistry
March 15th, MUC 307: Dr. Allyn Smith, associate professor of physics
March 22nd: Dr. Sharon Mabry, professor of music
March 29th: Dr. Cameron Sutt, assistant professor of history
April 5th: Mark DeYoung, assistant professor of art
April 12th: Dr. Tim Winters, professor of English
April 19th, MUC 103: Dr. Jeffrey Wood, professor of music
The Provost Lecture Series seeks to foster a spirit of intellectual and scholarly inquiry among faculty, staff and students.
The program will be used as a platform for APSU faculty members who are recent recipients of provost summer grants, who have been awarded faculty development leaves and who have engaged in recent scholarly inquiry during sabbatical leaves.
APSU faculty members with recent research of acclaim also will be given a platform within this series. In addition, other faculty members of local or widespread renown will be invited to lecture within this series.
For more information about the Provost Lecture Series, call Dr. Brian Johnson, assistant vice president of academic affairs at APSU, at 931.221.7992 or email him at johnsonb@apsu.edu.