APSU Sports Information: Austin Peay Basketball

Nashville, TN – Austin Peay will see plenty of familiar faces when the Govs travel to Nashville, 6:30pm, Monday to face Lipscomb.
Four of Lipscomb's players–freshman starting point guard Zavion Williams; redshirt freshman forward Damarius Smith, brother of Austin Peay football player Amius Smith, and twin brothers Malcolm and Martin Smith–are from Clarksville. Williams is having little trouble in his transition to Division I, averaging 16.2 ppg to go with 2.3 steals and 3.7 assists per game. In fact, the local quartet can be found playing summer pickup games in Clarksville with the Governors.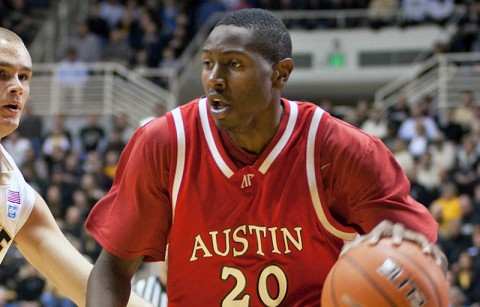 The young Bisons are off to a 3-3 start in a rebuilding season, including winning the Mayan Division of the Cancun Challenge. Guard Robert Boyd was named to the all-tourney team while guard Jordan Burgeson, playing in his first game, scored 20 points against Sacred Heart.
The Bisons also hung with Illinois and Illinois State before losing in road games through the Prairie State.
Meanwhile, the Governors are still seeking their season's first win after dropping their home opener, 90-70, to Middle Tennessee, Saturday night. It put the Govs at 0-7 this season and it was their ninth straight defeat dating back to 2010-11.
It was inefficient offensive play along coupled with superb Middle Tennessee shooting that led to the Govs undoing. APSU shot below 40 percent for the fifth time in seven games, struggling to 21-of-58 shooting (36.2 percent).
As a result, APSU's season-long frustrations continued. In fact, the Governors most spirited effort came with a large majority of substitutes were on the floor in the second half–the Govs produced an 11-0 run that nearly put the Govs back into the game.
The Governors were outrebounded by a 40-26 margin–it was the sixth straight game they have been outrebounded, the same stretch of games where APSU has been without senior center John Fraley (concussion).
Governors Pardon
This is Austin Peay's 80th season of basketball.
Dave Loos, APSU's all-time winningest basketball coach, also is the OVC's all-time wins leader with 351 victories. He also has 433 career coaching wins.
The Dave Aaron Arena playing floor was named Dave Loos Court, Summer 2007. Loos is believed to be one of only three current Division I men's coaches who are coaching on courts that bear their respective names-Duke's Mike Krzyzewski and Syracuse's Jim Boeheim-are the other two. Valparaiso's Homer Drew, who retired after the 2010-11 season, had the floor named after him last season.
Since 1993-94, Austin Peay has finished no worse than fifth in the OVC standings.
Austin Peay has reached at least the OVC tournament semifinals in 13 of the last 17 years.
What You Should Know
The Series: This is the 69th meeting between Austin Peay, a member of the Ohio Valley Conference, and Lipscomb, an Atlantic Sun member, with the Governors leading 40-28, with Lipscomb winning both 2010-11 meetings, 104-100 in overtime, November 18th, in Nashville and 73-70, December 7th, in Clarksville. When the two teams met last November, it was the first meeting between the two former Volunteer State Athletic Association members since the 1961-62 season. In fact, it's the first meeting since the 1962-63 season when the teams were members of the Volunteer Athletic Association.
Deeper Meanings
What A Win Would Mean: The Govs would gain their first 2011-12 victory. They would improve to 1-7. It would be Austin Peay's 41st victory in the series. It would be the Govs first win against Lipscomb since the latter became a Division I program. It would improve the Govs to 104-75 against current Atlantic Sun Conference members. It would be Loos' 434th career coaching victory and his 352nd APSU win. It would improve Dave Loos to 8-9 against Lipscomb.
What A Loss Would Mean: The Govs would fall to 0-8 on the season, their worst start since the 1963-64 team opened 0-8. The Govs would fall to 40-29 all-time in the series with the Bisons. It would be their third straight loss in the series. It would be their 76th all time loss against current Atlantic Sun members. It would be head coach Dave Loos' 351st career loss and 298th Austin Peay defeat. It would drop Dave Loos to 0-3 all-time against current Lipscomb coach Scott Sanderson.
Steal Away
For a second straight game, Austin Peay recorded double-digit steals with 13 against MTSU, Saturday. The Govs also had 13 against Detroit, Wednesday.
Forcing Turnovers
In two games against Middle Tennessee this season the Governors forced 20 turnovers in each. In fact, not only did the Governors force 20 turnovers in each Middle Tennessee game, they also have forced 20 turnovers in consecutive games–Detroit had 20 turnovers in APSU's final CBE game.
Shooting Pain
After shooting 49.3 percent from the floor against Detroit, Wednesday, the Governors reverted back to their previous shooting troubles against Middle Tennessee. APSU made just 21 of 58 shots for 36.2 percent. It was the fifth time in seven games APSU shot below 40 percent. The 36.2 percent also was APSU's second lowest shooting percentage this season after the 34.5 percent against George Washington.
Defensive Woes
Not only are the Govs struggling on the offensive end, but playing from behind and being forced to play fullcourt defense has also created some defensive issues. Entering Monday's game, the Govs opponents are shooting 50.8 percent from the floor, including allowing a trio of teams to shoot better than 50 percent this season. When MTSU shot 64.7 percent, Saturday, it was the highest field-goal percentage against APSU since Missouri shot 62.1 versus Missouri, December 27th, 2009.
No Joshin' Around
Senior forward Josh Terry saw his string of double-figure scoring performances end at six against Middle Tennessee as he was held to three points. Terry, who entered the game shooting 61.4 percent from the floor, connected on just 1-of-7 from the floor.
Free Throw Improvement
Entering Saturday's game against MTSU, the Govs were shooting a struggling 59.4 percent from the free-throw line this season. Against MTSU, APSU shot 72.7 percent (24 of 33), including 15 of 18 (83.3 percent) in the second half.
Freebird
Freshman forward Chris Freeman tied for the Govs' lead in rebounding with a singlebest six while also scoring five points, all
on free throws, against MTSU.