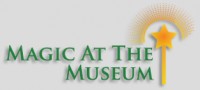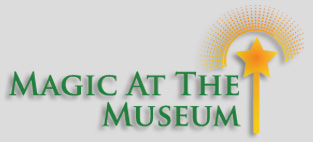 Clarksville, TN – On Saturday, Russ Nowack of Hocus Pocus Entertainment headlined the final Magic at the Museum show for 2011. Produced by Bonehead Promotions Magic at the Museum is held at the Customs House Museum in Clarksville Tennessee. This was the third show for who he headlined the first and last shows of the 2011 season,he also served as preshow entertainment on another.
Hank Bonecutter's Bonehead Promotions produces Magic at the Museum, reflecting on the first season he said, "The first year of Magic at the Museum was a huge success we enjoyed working with our presenting sponsors Maurice and Terri Vaughn's Maurice Vaughn's Better Homes and Garden Hometown Connection, and the Customs House Museum to present the series of magic shows that raised money for wonderful causes, while being a great time for the kids."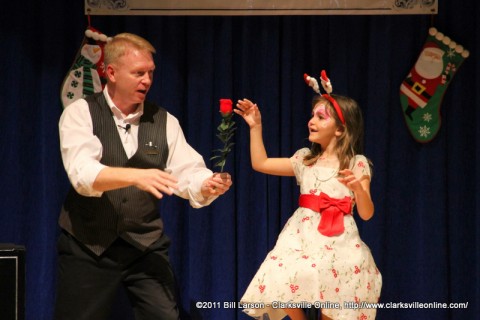 The cost of a museum admission was included in the ticket price, and before the show parents and their children were able to enjoy all that the museum has to offer. "The Customs House Museum was a fantastic venue in which to hold these shows," Bonecutter said.
Other activities included the Balloon Man, and some gorgeous face painting by Cenema's Facepainting and Henna.
When it was time for the show to begin, the auditorium was packed full of excited kids and their parents. A few lucky attendees were allowed to assist Magician Russ with some of his tricks. Following the magic show Santa Claus came out to visit with the kids.
The proceeds from this Magic at the Museum show went to benefit Radical Mission, a local charity that helps provide much needed services for the less fortunate in our community. Maurice Vaughn's Better Homes and Garden Hometown Connection was the presenting sponsor
Video
Photo Gallery
About Magician Russ
Russ Nowack began his interest in magic at a very early age. He began performing full time in his late teens and with literally thousands of performances behind him and over 20 years in the business of Magic, he is truly Entertainment with Experience. His specialties include performing for children as well as serious jaw dropping close up magic ! His award winning sleight of hand will make you believe in miracles!You can feel confident that Magician Russ Nowack will transform your next Special Occasion into something Magical!
About the Better Homes & Garden Real Estate Hometown Connection
Better Homes and Gardens Real Estate Hometown Connection specializes in residential and commercial real estate and serves the communities of Clarksville Montgomery County and surrounding areas. With the strength of a national brand and its commitment to excellence in the local real estate market, the company is positioned to provide its clientele exceptional service. Better Homes and Gardens Real Estate Hometown Connection is a franchise affiliate of Better Homes and Gardens Real Estate LLC, an international real estate brand that offers a full range of services to brokers, sales associates and home buyers and sellers. For more information visit their web site, or call 931-245-2050.
About the Customs House Museum

Located at the corner of Second and Commerce Streets, the Customs House Museum is the second largest general museum in Tennessee. Regular museum hours are 10 am to 5 pm Tuesday through Saturday, and 1 to 5 pm on Sundays. Adult admission is $7, Sr. Citizens and College ID $5, Ages 6 to 18 $3, and under six is free. For more information on above events contact Terri Jordan, Exhibits Curator, at 931-648-5780 or terri@customshousemuseum.org.
.