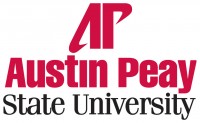 Clarksville, TN – Dr. Blas Falconer, a poet and Austin Peay State University professor of English, grew up in northern Virginia, the son of a Puerto Rican mother and a Caucasian father of German-Scottish descent. Occasionally, in an effort to reconnect with his mother's heritage, he'd flip through books of verse by the Puerto Rican poets who populated New York City's Spanish Harlem neighborhood. But when he read this poetry, he felt disconnected from his heritage.
"My identity was shaped by my Latino background, and yet I struggled to identify with a lot of Latino literature being published," he said. "A lot of it came from these centers of Latino communities – the Puerto Rican community in New York or the Cuban-American community in Miami or the Mexican-American, the Chicano community, in the American Southwest. And so, a lot of the writing that came out of there addressed community concerns."
The works didn't reflect what it was like to be a young Puerto Rican boy growing up in the suburbs of Washington, D.C. This feeling of otherness and the question of identity continued to trouble and fascinate Falconer as he got older, and earlier this year, he posed these questions to the public with the publication of a new anthology of essays he co-edited, "The Other Latin@: Writing Against a Singular Identity." The works in the book, by prominent Latino writers, deconstruct and challenge the public's mainstream perception of Latino culture.
Falconer developed the idea for the essay collection years ago, when he encountered other Latino writers with similar experiences. He became friends with the poet Helena Mesa, a Cuban-American raised in Pittsburgh, and he later met the poet Lisa Chavez, a Chicano who grew up in Alaska.
"I started thinking, 'you know what, there are a lot of us out there who identify as Latino, but don't have this experience of community,'" he said. "I thought, 'I want to explore this more. What does it mean to be Latino?'"
Falconer ended up creating a panel for the Association of Writers and Writing Program's (AWP) annual conference. He invited Chavez and Mesa to sit in on the discussion, along with Juan Morales, a poet of Ecuadorian descent raised in Colorado. During that roundtable, the group discussed, as Falconer put it, the "diversity within their diversity."
Sitting in the audience that day was Falconer's publisher with The University of Arizona Press. In 2007, the press released Falconer's book of poetry, "A Question of Gravity and Light." She asked if he'd ever thought of doing an anthology of essays on the subject.
"I had," he said. "I wondered what other stories were out there."
After writing a proposal and receiving approval from the press to go forward on the project, Falconer contacted the fiction writer Lorraine M. Lopez, an associate professor of English at Vanderbilt University's Master of Fine Arts program, about co-editing the book with him. She agreed, and they each contacted 10 poets and 10 fiction writers, seeking submissions.
What they received was a powerful collection of essays that the noted scholar and writer Ilan Stavans called "an assemblage of personal viewpoints that isn't afraid to unsettle the complacent, reductionist picture of who Latinos are, or better, what 'lazy thinking' wants us to be."
Marjorie Agosin, author of "Of Earth and Sea: a Chilean Memoir," described the anthology as "an essential and vibrant collection of essays that explore the plurality as well as the differences found in Latino voices and their journeys into their past."
The works present the diversity and complexity in a culture often painted in broad strokes, but what makes this anthology so readable is the contributors.
"I think that Lorraine Lopez's essay is not only insightful in the way it approaches its subject, it's very moving," Falconer said. "It's funny. We didn't ask just anybody to contribute. We asked writers, and they're in their element."
"The Other Latin@" is currently available online at amazon.com. For more information on this anthology, contact Falconer at .
Sections
Education
Topics
Alaska, APSU, Austin Peay State University, Blas Falconer, Vanderbilt University, Virginia, Washington D.C.