APSU Sports: APSU Women's Softball

Tulsa, OK – A bases-loaded double by freshman Paige Neely backed a complete-game pitch effort by sophomore Lauren de Castro, as Austin Peay State University's softball team earned a split in Friday's opening day of play at the Hyatt Downtown Tulsa Tournament – defeating Loyola Chicago 4-1 in the opening game before falling to the tournament host Tulsa 8-0 in the nightcap.
With the scored tied 1-1 heading into the top of the fifth inning, senior Amy Mills got the Lady Govs (5-5) rally started with a single past the Ramblers third baseman Lauren Moore.
Mills was pinch ran for by freshman Courtney Ervin, who was then moved to second base on a single by fellow freshman Lauren Burroughs.
An error by Loyola Chicago pitcher Amanda Ciran on a comebacker by de Castro then loaded the bases with one out, bring up Neely.
Neely then drove a 1-0 pitch off the center field fence clearing the bases and giving the Lady Govs a 4-1 lead
That would be all the runs that de Castro would need, as she limited the Ramblers (0-2) two just two hits in their final three at bats.
Overall, deCastro (3-0) only gave up one earned run in her seven inning of work, scattering seven hits, while walking one and striking out three.
Austin Peay got on the board first in the top of the second inning on a run scored by freshman Sarah Rasmussen, as she lead off the inning with a double to center field and scored an out later.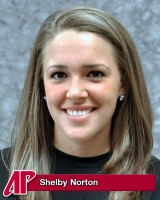 Rasmussen scored on a throwing error by Loyola Chicago first base Tarran Shaffer, off a bunt single by red-shirt junior Shelby Norton, which got away from the second baseman covering the bag allowing Rasmussen to score.
The Ramblers would tie the game in the bottom of the inning on a wild pitch by de Castro.
Things didn't go as well for the Lady Govs in the nightcap, as Tulsa (11-3) took advantage of a walk, a wild pitch and three first-inning hits to jump out to a quick 2-0 lead.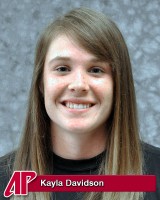 But it was the second inning that proved to be the back breaker for Austin Peay, with the Golden Hurricane scoring four times – highlighted by a two-run single by Skylar Swanson.
Sophomore Kayla Davidson would have the only extra-base hit among Austin Peay's five hits – a triple to lead off the fourth inning.
Austin Peay will wrap up round-robin play today, at 10:30am, against North Texas, when depending on their seed play again at either 3:00pm or 5:00pm in the second-third seed game or the first-fourth seed game.