Mazda's score improves most while Ford's falls the farthest

Yonkers, NY – Riding a wave of impressive redesigned models in the last few years, Subaru for the first time has earned the top score in Consumer Reports automaker report cards for 2012.
Subaru's score of 75, two points higher than last year, reflects better test scores for such redesigned models as the Impreza, Legacy, and Outback over the last few years. The 2012 Impreza, which Consumer Reports just tested, now tops the small-sedan class and is the Consumer Reports Top Pick in that category. Subaru's average road-test score of 82 is the highest in Consumer Reports analysis.
Honda, which had been the perennial winner for the past four years, slipped two points to fourth place among 13 major automakers, behind Mazda and Toyota. Honda has been hurt by several redesigned models—including the Civic and Odyssey—that didn't measure up to their predecessors. Honda models, however, are still among the most reliable on the road overall.
Toyota remains among the top three automakers for the fifth straight year, buoyed by consistently above-average reliability and most vehicles have high test scores.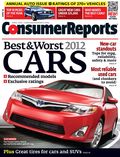 Consumer Reports automaker report cards reflect the performance, comfort, utility, and reliability of more than 275 vehicles that CR recently rated, providing a perspective on which manufacturers are building the best all-around models. Each automaker's overall score is based on the average road test scores and reliability ratings for all of its models that CR has tested.
"While Japanese automakers still hold the top five spots, their lead is shrinking. In some of Honda's and Toyota's recently redesigned models, cost-cutting has become more noticeable," said David Champion, senior director, Consumer Reports Automotive Test Center.
Mazda showed the most dramatic improvement among the 13 manufacturers rated by Consumer Reports. It climbed to second place from last year's seventh and increased its overall score by nine points. It was helped by an improved Mazda3 and the shedding of two models that dragged down its score, the Tribute SUV and RX-8 sports car.
On the other hand, Ford dropped the farthest, from fifth place last year to 10th. Ford's road-test score improved by two points over last year's, but subpar reliability of some new vehicles, due largely to the troublesome MyFord Touch infotainment system and Power-Shift automatic transmission, hurt its report-card grade.
"GM and Chrysler are building nicer cars with each redesign. Still, their scores are dragged down by several older designs that score low in Consumer Reports testing or have reliability issues,"  Champion said, "As more new products are introduced, their fortunes could change if they can improve their overall reliability."
Although Chrysler remains in last place, its overall score jumped eight points, making it the second most improved automaker. Chrysler's average road-test score also increased by eight points, the most of any automaker, and its overall reliability improved to average. The turnaround can be credited mostly to Chrysler's extensively freshened and redesigned vehicles.
Europe a mixed bag:
Volvo earned the best grade of any European automaker, thanks in part to a big improvement in the redesigned S60 sedan. Still, average reliability and less-than-stellar test scores kept it from making further progress.
Like Toyota and Honda, Volkswagen's redesigns of some of its best-selling models, including the Jetta and the Passat, dropped in Consumer Reports road-test scores. The Jetta once provided an upscale alternative to more common small cars, but its new interior is stingy and handling is lackluster, eroding that advantage. The Passat has evolved from a sportier midsized sedan to a larger, more mundane, less sophisticated car. The change has brought mixed results. On the other hand, the redesigned Audi A6 and A8 posted big gains in CR's road tests.
Despite having frustrating controls, BMW and Mercedes-Benz models are nicely finished and well-mannered on the road, and they get high scores in Consumer Reports road tests. And though reliability has climbed to average for both carmakers, they were hurt by the reliability of some popular models. Mercedes' flagship S-Class sedan joined the company's large GL SUV with subpar reliability. The reliability of some turbocharged Mini Coopers and the 5 Series hurt BMW's grade.
The complete report and scores for all 13 automakers in Consumer Reports automaker report cards for 2012 is available in the April issue of Consumer Reports on newsstands March 6th or at www.ConsumerReports.org starting February 28th, 2012.
Some manufacturers were not included in Consumer Reports automaker report cards for 2012. In order to give an overall score, Consumer Reports must have both road-test data and sufficient reliability data from its Annual Auto Survey on at least four models. CR did not have sufficient data on enough models from Jaguar, Land Rover, Mitsubishi, Porsche, and Suzuki to calculate a score. Ratings on individual models from those makers are available at www.ConsumerReports.org.
About Consumer Reports
Consumer Reports is the world's largest independent product-testing organization. Using its more than 50 labs, auto test center, and survey research center, the nonprofit rates thousands of products and services annually. Founded in 1936, Consumer Reports has over 8 million subscribers to its magazine, website and other publications.  Its advocacy division, Consumers Union, works for health reform, food and product safety, financial reform, and other consumer issues in Washington, D.C., the states, and in the marketplace.