Clarksville, TN – It's hard to believe another year has passed and we are ready up for the 10th annual Rivers and Spires Festival, April 19th-21st. As usual there will be tons of free concerts, entertainment and activities. But, because it is our birthday, and we think a big one, the Festival has a few surprises up its sleeve, but you'll have to come out and see!
If you've never been to the Rivers & Spires Festival or are new to town, put it on your calendar and get ready to have a great time. Lined with craft and food vendors, six music stages, kids' activities and artisan booths, Historic Downtown transforms each year as the festival goes into full swing. Music is a big part of the event, with at least two artists on one of the many stages at any given time. But it doesn't stop at just music. There is art, crafts, a children's parade, food, drinks and fun to be found on every corner.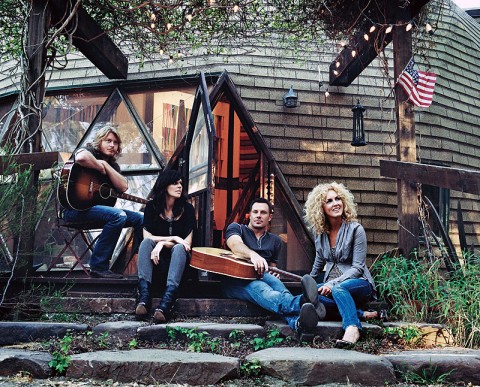 In case you haven't heard, the award winning vocal group, Little Big Town will be the featured headliner at this year's festival. Little Big Town will take the stage on Saturday night at 9:00pm. They are known for their string of hits over the past several years including "Boondocks", "Little White Church", "Good as Gone" and "A Little More You".
Contemporary Christian artist Lincoln Brewster will make his Clarksville debut this year on Friday night. Listen as Lincoln shares his story and sing the songs that have made him a celebrated musician. Known for his acclaimed albums, Real Life, Today is the Day, All To You and Amazed, Lincoln will be sure to both inspire and entertain while at Rivers & Spires.
Rivers & Spires brings a wide variety of events to the streets of downtown Clarksville. Here are some of the events you can enjoy:
Arts Galore
Come and shop with us in Historic Downtown Clarksville to find all kinds of unique art from local and regional artists. All pieces are handcrafted and/or homemade. Mediums include: woodworking, pottery, paintings, illustrations, fabric/clothing, jewelry, furniture and much more.
Aspire to Stardom
This award-winning Youth Talent Show features some of the area's youngest entertainers. From singers to dancers, magicians to comedians, this show has it all. Those interested in competing must fill out and application and attend try-outs. If selected, you will perform in front of a panel of talent scouts! This could be your BIG BREAK!
Car Shows
Gearheads will delight in the Motor Madness that takes over the festival streets! Two car shows are part of this year's festival: Memory Lane Cruisers featuring vintage vehicles of all makes and models and Corvettes on the Cumberland showcasing one of America's most loved vehicles – the Corvette.
Children's Parade
Once again, kids 12 years of age or younger and their accompanying adults can join all the fun – characters in costume, small floats and walkers – in the Eighth Annual Rivers & Spires Children's Parade.
Clarksville's Got Talent
Montgomery County's amateur stars shine in this local talent competition. Tryouts begin before the festival, held in locations throughout Clarksville, and those who advance compete on stage in front of a live audience at the 2012 festival. There is a cash prize to the winner! Keep checking the festival website as more information is available.
Festival of Nations (formerly International Streetfest)
This Clarksville favorite has been redesigned and enhanced for the 10-year anniversary! The diverse cultures of the Clarksville community are showcased in an array of costumes, dance, food and visual arts. Festival of Nations is a whole world of culture, cuisine and entertainment in one area. Among the diverse regions representated are cultural experiences from Japan, Panama, China, India, Africa, the Phillipines, Germany, Mexico, Puerto Rico and many more!
Get DOWNtown
The festival's Thursday night kick-off party always features great food, music and entertainment for young professionals… and those who are just looking for a good time.
Green Zone
This area, located in the Madison St. UMC parking lot, teaches children and families about stewardship, recycling and Earth's valuable resources. Local businesses can set up a booth to teach festival goers about their companies green initiatives.
Jazz N Wine
Located in the plush Trinity Episcopal Church Courtyard and grounds, Jazz N' Wine is Rivers and Spires Annual Wine Tasting. Wineries from across the Southeast bring their best vino for samples and for sale! Enjoy the cooking demonstrations and live music from local songwriters as well.
Kidz Zone
Travel through our inflatable jungle, climb velcro walls, paint, create, or participate in all kinds of interactive entertainment! The Kidz Zone is a fun area filled with over 21 FREE events for kids of all ages to enjoy. Special kids entertainer will perform on Friday and Saturday at various times. Also look for Mascot Mania where all of your children's favorite characters compete in fun games and silly challenges!
Last Band Standing
This rock and roll competition grows every year! Hundreds of bands from around the region submit their songs and those selected play on stage in a Battle of the Bands competition. Audience and guest judges choose the winner!
Marketplace
Open on Friday and Saturday the Marketplace is a plethora of vendors selling everything from sunglasses to antiques. This flea-market inspired area is a bargain shoppers paradise!
Quilts of the Cumberland
This FREE art show features quilts of all shapes and sizes. The artistic beauty of these pieces will amaze you. Juried exhibitions as well as non-juried exhibitions will take place at this year's show. Those interested in participating in the exhibition may fill out an application.
River Queen
Young ladies from across the state are invited to compete in the festival's beauty pageant. Winners will advance to the Miss Tennessee USA and Teen USA pageant. River Queen is held Saturday, March 24th, 2012 at APSU Clement Auditorium. For more information visit the River Queen page.
Step Show presented by Daymar Institute
This hip-hop infused dance competition is certain to get you out of your seat! Multiple groups take the stage and perform unique dance numbers.
Fireworks
There will be a fireworks display Friday evening at 9:45pm, it should be visible from all over the downtown area.
Map
Schedule
Thursday, April 19th


Friday, April 20th


Saturday, April 21st
CSA Flute Choir (Other)
The Community School of the arts, Flute Choir,ages 13-18.
10:00am | Courthouse Stage | More »
United Voices (Christian)
The choir is formed from members of several local
10:00am | Christian Stage | More »
Branon Jaggers Alternative
Singer/ Songwriter
10:00am | Strawberry Alley Stage | More »
Mt. Juliet Pow Wow

10:00am | Festival of Nations Stage | More »
Sango Honor Choir (Other)
Elementary school choir grades 4th & 5th
10:30am | Fun Zone Stage | More »
CSA Percussion Ensemble
The Community School of the Arts, Percussion Ensemble, ages
10:30am | Courthouse Stage | More »
Baize Martial Arts (Other)
Martial Arts Demonstration
10:30am | Festival of Nations Stage | More »
CSA Dance Class
The Community School of the Arts, Dance Class, ages
10:45am | Courthouse Stage | More »
MCES Honor Choir (Other)
3rd -5th grade Honors Chorus We are singing Country
11:00am | Fun Zone Stage | More »
Static Calm (Alternative)
This young five-piece Grunge Metal band is from Clarksville.
11:00am | Strawberry Alley Stage | More »
Gateway CAST & Crowns Performing Arts Center (Other)
We are a fully functioning youth performing arts center.
11:00am | Courthouse Stage | More »
Spare Time
Spare Time started as a friendly get together of
11:00am | Christian Stage | More »
Ballet Folklorico Viva Panama (Alternative)

11:00am | Festival of Nations Stage | More »
Naima (Christian)
A family friendly mix of contemporary Christian, urban and
11:30am | Christian Stage | More »
Lovey
The absolute most Funtastic Show that your children will
11:30am | Fun Zone Stage | More »
Hui Hawaii O Tenesi Hawaiian Civic Club (Other)

11:30am | Festival of Nations Stage | More »
Natalies Dance Network (Alternative)
A local dance group will perform.
11:45am | Courthouse Stage | More »
Barksdale Elementary School Bengal PAC (Other)
4th and 5th grade Performing Arts Club from Barksdale
12:00pm | Fun Zone Stage | More »
The Dance Force of Clarksville (Other)
Dance Studio 3 groups
12:00pm | Courthouse Stage | More »
The Gospel Starlights (Christian)
Upbeat gospel hits that will motivate, encourage, lift up,
12:00pm | Christian Stage | More »
Clarksville Judo & Jujitsu Club (Other)
The group will demonstrate proper technique and skills in
12:00pm | Festival of Nations Stage | More »
Cumberland Winds Concert Band
Come and join Clarksville's community concert band, the
Cumberland Winds,
12:15pm | Courthouse Stage | More »
Cumberland Heights Elementary Honor Choir & Dance (Alternative)
Honor Choir and Dance Team will sing and dance.
12:30pm | Fun Zone Stage | More »
D 4 G Dancers (Alternative)

12:30pm | Festival of Nations Stage | More »
What We Were (Other)
A local pop/rock band from Clarksville. They have played
1:00pm | Strawberry Alley Stage | More »
Trademark (Christian)
Energetic, inspiring, and worshipful are words that have been
1:00pm | Christian Stage | More »
Lauren Weakley Band (Country)
Lauren is a local, Country singer/songwriter who has been
1:00pm | Public Square Stage | More »
Korean Womens Organization

1:00pm | Festival of Nations Stage | More »
Jackson Alley (Country)
Country, bluegrass, originals, covers, a little bit of everything!
1:30pm | Courthouse Stage | More »
CSA Youth Choir (Other)
The Community School of the Arts, Youth Chorus, ages
1:30pm | Fun Zone Stage | More »
The Ladies of Lada, Troupe Thalia (Other)
Middle Eastern Dance Performances.
1:30pm | Festival of Nations Stage | More »
CSA Youth Orchestra (Other)
The Community School of the Arts, Youth Orchestra, ages
1:45pm | Fun Zone Stage | More »
Josh Mullins (Country)
Josh Mullins is a full band playing country music.
2:00pm | Public Square Stage | More »
New Panther Singers (Other)
Elementary Show Choir from Centennial Elementary in Dickson, TN
2:00pm | Fun Zone Stage | More »
Jamie Worley Band (Alternative)
Contemporary Christian
2:00pm | Christian Stage | More »
Kriegisch Martial Arts (Alternative)

2:00pm | Festival of Nations Stage | More »
Vizcaya (Rock)
Pop/rock female fronted band located in Nashville. Plays original
2:15pm | Courthouse Stage | More »
Lovey
The absolute most Funtastic Show that your children will
2:15pm | Fun Zone Stage | More »
Step Off (Other)
Step Off for local groups to perform.
2:30pm | Strawberry Alley Stage | More »
Filipino American International Association (Other)

2:30pm | Festival of Nations Stage | More »
Woodlawn E.S. Chorus/Drum team (Other)
4th and 5th grade singers and 5th grade drum
3:00pm | Fun Zone Stage | More »
Saints of Havana (Country)
Country Rock in the styles of Rascal Flatts, Keith
3:00pm | Public Square Stage | More »
Shaken (Christian)
Shaken is a Christian Rock band from MS.
3:00pm | Christian Stage | More »
Northeast High School Exit One Show Choir (Other)
Great High School Show Choir performing to the music
3:00pm | Courthouse Stage | More »
Clarksville Budo Club (Other)
The Clarksville Budo Club is a Traditional Japanese
3:00pm | Festival of Nations Stage | More »
NEHS Guys and Dolls Concert Choir (Alternative)
Join the Northeast High School Concert Choir and Women's
3:30pm | Courthouse Stage | More »
Chinese Drumming and Lion Dance
Chinese Arts Alliance of Nashville (CAAN) is organized to
3:30pm | Festival of Nations Stage | More »
Soul Gate 7 (Christian)
We are a Christian rock band. We have been
4:00pm | Christian Stage | More »
Yesterday! (Rock)
Beatles cover band
4:00pm | Courthouse Stage | More »
Kate McRae & Texas Medicine (Country)
Our energetic shows keep toes tappin' not only to
4:00pm | Public Square Stage | More »
Derek Lorin
Derek is a jazzy-pop artist and singer/songwriter. He writes
4:00pm | BrewFest Stage | More »
Little Mexico & Latin Folklore (Other)
International Folklore Dances of the Latino Tradition.
4:00pm | Festival of Nations Stage | More »
Lovey
The absolute most Funtastic Show that your children will
4:30pm | Fun Zone Stage | More »
Back Lot Pickers
Back Lot Pickers, We consist of Travis Cook, on
4:30pm | BrewFest Stage | More »
Harris Holt Martial Arts Academy (Other)
This martial arts demonstration will feature Japanese style. Be
4:30pm | Festival of Nations Stage | More »
Brinn Black and the Gentlemen (Country)
Country artist creating a rockin' high energy show. From
5:00pm | Courthouse Stage | More »
Ragdoll (Country)
Ragdoll is a husband wife duo that performs pop-country.
5:00pm | Public Square Stage | More »
Krusifyed (Christian)
We are a Christian Rock Band,we Just love People
5:00pm | Christian Stage | More »
Jonathan Scales Fourchestra
The steel pan, an amazing musical discovery born in
5:00pm | Festival of Nations Stage | More »
Backroad Brigade (Rock)
This band is known for their Rock, Blues and
5:30pm | Strawberry Alley Stage | More »
Spare Time
Spare Time started as a friendly get together of
5:30pm | BrewFest Stage | More »
Eagleoke
The Eagle is teaming up with Gasaway Farmer &
6:00pm | Courthouse Stage
A Rotterdam November (Christian)
Christian Contemporary
6:00pm | Christian Stage | More »
Henry MacAfee
Captain Henry is a classically trained violinist and composer
6:00pm | BrewFest Stage | More »
Hot Lanta

6:15pm | Public Square Stage | More »
Last Band Standing
LAST BAND STANDING is back! We're looking for
6:30pm | Strawberry Alley Stage
Cumberland Winds Jazz Combo (Jazz)
The Cumberland Winds Jazz Combo is a 5 piece
7:00pm | Courthouse Stage | More »
Sam Spivey

7:00pm | BrewFest Stage | More »
LBS Thursday Winner
The winner from Thursday night's competition will perform again.
7:00pm | Strawberry Alley Stage
The Lost Trailers
The Lost Trailers is a country music duo of
7:30pm | Public Square Stage | More »
Salsa Dancing Lessons
Come learn how to salsa and then dance the
7:30pm | Festival of Nations Stage | More »
Attalus (Alternative)
Christian / Rock / Alternative
7:30pm | Christian Stage | More »
Nathaniel Green
My name is Nathaniel Green. I am 19 years
7:30pm | BrewFest Stage | More »
The Jaystorm Project (Other)
High-Energy Funk, Soul, and Blues
8:00pm | Courthouse Stage | More »
LBS Friday Winner
The winner from Friday night's competition will perform. Part
8:15pm | Strawberry Alley Stage
Revolfusion Latin Band
Revolfusion is an authentic Latin band specializing in Samba,
8:30pm | Festival of Nations Stage | More »
Little Big Town
What is "The Reason Why" some bands survive and
9:00pm | Public Square Stage | More »
Pure Star Movement (Christian)
Alternative/Melodic/Progressive Rock with fun twists of hip-hop and very
9:00pm | Christian Stage | More »
The Dirty Grindstones
Winner of the 2011 Last Band Standing Competition.
9:15pm | Strawberry Alley Stage
Tina Brown Band (Alternative)
Tina Tina Brown Band is an R&B and Blues
9:30pm | Courthouse Stage | More »