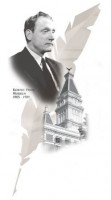 Clarksville, TN – Participants expecting to attend the Clarksville Writers' Conference on June 7 and 8 have just received the following message:
"We regret to inform you that poet Amanda Auchter will be unable to attend this year's conference, as originally scheduled, due to illness (from which she is expected to make a full recovery).  While we will miss seeing and hearing from Amanda, we think you will be pleased with her replacement, poet Jeff Hardin.
Hardin is the author of two chapbooks, Deep in the Shallows and The Slow Hill Out, as well as one collection, Fall Sanctuary, recipient of the Nicholas Roerich Prize.
His work has appeared in Homeworks: An Anthology of Tennessee Writers, as well as such journals as The North American Review, Hudson Review, Southern Review, Gettysburg Review, Southwest Review, The Florida Review, Poetry Northwest, Ploughshares, Poem, Zone 3 and many others.  His presentation/workshop topics on Friday, June 8th include:
9:00am. – 10:15am  – RM 312 – Jeff Hardin "Conceptual Strategies for Generating and/or Shaping Poems"
Hardin provides an overview of 13 "conceptual strategies" for generating and shaping poems (including cataloging, sound, repetition, narrative and titles, among others), choosing one of these for a closer examination.
10:25 am – 11:40 am – RM 312 – Jeff Hardin "Making Fun of Form"
Hardin discusses how the use of form can not only be fun, but can be "made fun of," that is, interrogated and challenged or altogether reinvented. Using some of his own poems as examples, he illustrates how he has been inventing a few forms of his own over the years, encouraging writers to find their own forms for poems."
There is still time for you to sign up for the Eighth Annual Writers' Conference and to attend the banquet on Thursday night at Clarksville Country Club.
Just go to http://www.artsandheritage.us/writers/ to find out all the information you need. Don't miss this opportunity to see and hear world-famous writers right here at Austin Peay State University's Morgan Center.
About Sue Freeman Culverhouse
Author of Tennessee Literary Luminaries: From Cormac McCarthy to Robert Penn Warren (The History Press, 2013) Sue Freeman Culverhouse has been a freelance writer for the past 36 years. Beginning in 1976, she published magazines articles in Americana, Historic Preservation, American Horticulturist, Flower and Garden, The Albemarle Magazine, and many others. Sue is the winner of two Virginia Press Awards in writing.

She moved to Springfield, Tennessee in 2003 with her sculptor husband, Bill a retired attorney. Sue has one daughter,  Susan Leigh Miller who teaches poetry and creative writing at Rutgers University.

Sue teaches music and writing at Watauga Elementary School in Ridgetop, Tennessee to approximately 500 students in kindergarten through fifth grade. She also publishes a literary magazine each year; all work in the magazine is written and illustrated by the students.

Sue writes "Uncommon Sense," a column in the Robertson County Times, which also appears on Clarksville Online. She is the author of "Seven keys to a sucessful life", which is  available on amazon.com and pubishamerica.com; this is a self-help book for all ages.

Web Site: http://culverhouseart.com/
Email:
Sections
Arts and Leisure
Topics
2012 Clarksville Writers Conference, Amanda Auchter, Arts and Heritage Development Council, Austin Peay State University, Clarksville Writer's Conference, Deep in the Shallows, Jeff Hardin, Nicholas Roerich Prize, The Slow Hill Out