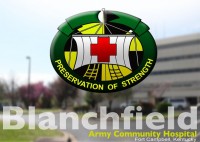 Fort Campbell, KY – Beginning June 14th, Blanchfield Army Community Hospital's Laboratory staff will participate in training from 12:30pm to 4:30pm every second Thursday monthly.
"These monthly trainings will enable us to offer educational opportunities and team building for our team that serves roughly 4,000 patients on a monthly basis and performs over 2 million tests annually," said Cpt. Amanda Luschinski, Laboratory Manager.
Patients with emergent laboratory needs will continue to receive services during the training time. Otherwise, normal laboratory hours are from 7:30am to 4:25pm, Monday through Friday.
In April, 2011, TRICARE announced that they expanded the TRICARE Online features to include lab results, patient history and diagnoses and provider visits. Visit www.tricareonline.com to learn more about other benefits to using the website, such as scheduling and canceling appointments.
Laboratory results may be obtained through patient's primary care clinics or through www.Tricareonline.com.