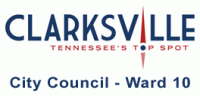 Clarksville, TN – In recent weeks I have received calls or emails concerning the Clarksville Department of Electricity (CDE). Some concerned billing while others were related to service, especially during the outages due to the storms.

This past week I had the opportunity to meet with Brian Taylor, Director of CDE, for over two hours. He was very gracious in wanting to address my questions and provide factors and details CDE faces in providing electrical service to our city. I want to publicly thank him for taking time to meet with me.

With the number of outages we have had in the past couple of weeks to due severe pop-up storms, CDE has been pressed to the max to restore service in a timely manner.

A number of residents have been very concerned with the amount of time it has taken, especially those who are on the Critical Care List (CCL). The CCL is a listing of residents that have special needs that can be related to health and welfare and require electricity to maintain these needs. Residents have contacted me about themselves or friends and neighbors who are on the CCL and the delays in getting their service restored. According to several of these residents, they understood that being on the CCL should put them/their neighborhood at or near the top of any electrical restoration efforts.

I opened with the CCL question and how that process worked. First, I asked Mr. Taylor do people on the CCL and their home/neighborhood have priority over other residents? The answer is no. The reason is CCL residents are living in just about every section of Clarksville and the associated electrical distribution grids supplying those sections.

So no matter which section of town is off the grid, CCL residents are likely being affected in various numbers. Therefore, it is CDE policy to try to re-establish power in the grid areas that affect the most people first. Therefore, more CCL residents are restored power at the same time.

Second, if CCL residents are not at the top of the restore list, then what is the purpose of the list? The purpose of the list is to allow CDE to talk with CCL residents and let them know that if power is to be out for some duration then they need to set up and be prepared with alternatives to gain access to another facility/location that may have power or have backup power capability.

This may mean having a friend or relative in another part of town to stay with during a long-term outage or having a generator or battery backup to provide needed power for a shorter period of time.

I asked if CDE has the ability to robo-call or somehow directly notify CCL residents if a power outage will be short or long term. Currently, CDE does not have that capability. If a resident is on the CCL and calls in, the CDE system will alert that the caller is on the CCL, provided it is the same phone number as the one on the CCL listing. CDE can then tell the caller the situation or call back with info.

Mr. Taylor and I discussed the need to have a system that could analyze an outage area, compare that to the CCL, and make notification calls. It is a technology upgrade that CDE wants.

Based on this information, it is important that if you or a neighbor/friend needs to be placed on the CCL, then do so immediately. Then, if you experience a power outage, call into CDE and let them know. However, their new hardware and software applications are allowing CDE to see power outages in real-time. So they are likely aware of a problem the same time you are. However, you may be able to get a time estimate of the outage or other info as it develops.

Also, when calling in your outage, it is actually faster to use the automated system versus waiting to talk with a customer representative. The automated system will record your outage as soon you enter the data and hang up. A customer representative will enter the data as soon as possible, but if they are flooded with calls or if the caller wants to talk for a while to the representative, it could be several minutes before the call can be entered into the system.

As a general rule, if power goes out in an area, CDE will starting fixing from the sub-station, to the primary feed lines, to the secondary lines and then on through the distribution network. Often citizens may see a CDE truck riding through their area while the power is out and wonder why they don't stop on their street. Usually, the truck may be on the way to where the primary break in service is or they may be visually tracing the overhead lines looking for breaks or where trees may be against the lines.

Another question about CDE service is what are the various charges being paid. Usually, if you look on the back of your CDE bill you will see "Billing Explanations". Most charges are explained in that section. However, if you look online you will see "Residential" billing fee and people have wondered about this, as it does not seem to get explained on the bill mailed out.

Currently a "Residential" charge of $17.76 a month is accessed on each billing. This is the basic amount CDE collects to open its doors (fixed costs) and operate. If you did not use but a few kilowatts a month, you would still pay at least $17.76. I asked if CDE could provide the "Residential" definition on future billings and they agreed to try and add it on billings.

Questions on payment capabilities were also brought up. CDE offers a number of billing options. I use the bank draft option where the monthly amount is automatically deducted from your checking or savings account. I have never had a problem with the option and I am never late with a payment.

However, particular questions about CDE's ability to hold excess payments or pay particular segments of its bills have been raised.  Here is the order of payment on a CDE billing.  Power, LightBand, then landfill.  So if you did not pay your CDE in full, that is the current distribution of payment.  Power is paid in-full first, Lightband will get what is left and then landfill.

Some customers will over pay their CDE bill and establish a credit in their account. Some may overpay by amounts where their next month's power bill is completely covered and maybe their LightBand. There may be money left over for the landfill, but CDE will not automatically pay that.  You will be billed for what isn't paid within normal CDE operations and landfill. They are an agent to collect the landfill fee only.

If you have a payment overage and want the landfill paid out of your excess, then you must call each month to have that done. There have been questions that CDE refused to do this at all. However, Mr. Taylor said it can be done, but on a monthly, called-in request. CDE does not have the automated system to make this a continuous setup/payment option. Thus, it takes a customer representative time to enter the request into the monthly landfill payment request from excess funds. CDE is looking at its payment and billing operations for changes/upgrades.

In talking with Mr. Taylor, customers need to know that CDE is staffed for normal operations in providing power. Storms that knock out power due to damaged lines may take some time to restore.  Crews will work the maximum hours they can and crews from contractors or other power companies will come to help. However, if storms are widespread, then these other outside resources are spread thin to handle other cities and counties with damage. Some residents/customers will say hire more crews.  This could be done, but that "open door" cost will balloon up and those particular crews may not be fully utilized/productive unless there is an emergency.  So it is always a balancing act of having enough crews to handle work without placing an undue financial burden on the customer.
Clarksville Fire Department
I want to say a BIG THANK YOU to the Fire Department. In case you have not heard, two homes in the Ward 10 area were hit by lightening and burned last week.
I live near MLK/Hwy76 and one house that was about a half mile from my home and just outside the city limits was struck. I saw three CFD units respond to help the county on that one. The next evening a house a mile from my home in the opposite direction was hit and burned with fire units responding.
In both cases a very severe storm was underway. Channel 5 Weather reported 100 lightening strikes per minute were being recorded with some of these storms. I can vouch that bolts were walking the ground in the Sango/Ward 10 area.
Yet, in the middle of these severe storms, with outrageous lightning and fierce fires, our firefighters were quick to the scene and getting to work to insure lives were safe and to avoid further property damage. A great job and thank you from all of us in Ward 10 to the men and women of Clarksville Fire & Rescue.
Airport
The new terminal is officially open for business. It looks great and will be a major asset to drawing more business to Clarksville and the hope/expectation of getting a commercial air carrier back in Clarksville. A runway extension and further technology upgrades can make this happen.
Marina
It is open and looks great. I have my own boat docked at the marina. During the July 3rd fireworks, the marina and ramps were in full use. If you want a slip, go down get one. Currently, the marina shop and front office is open six days a week, closed Tuesday. It opens at 10:00am. Live bait and fuel is available for purchase. This past Saturday I saw at least six cruisers in the 30 – 40+ foot range pull in for fuel and supplies and then proceed up river.
Liberty Park
All parts are open except the Wilma Rudolph building. The point building, which can hold up to 100-people, has already been rented several times for weddings and military functions. Nothing but positive remarks are coming back. Dates to reserve it are filling up, especially for weekends. If you are interested in reserving this facility, call Clarksville Parks and Recreation for that special event.
Reservations for the Wilma Rudolph building are being taken now. It is my understanding you can look to sign up for dates in September at this time. Construction will finish in August. Depending on the event and seating requirements 500 to 1000+ could use this facility and that is not including the amphitheater sections.
Editor's Note: This article contains the view points of Councilman Bill Summers and may not represent the views of the rest of the City Council, the City of Clarksville or ClarksvilleOnline.
Sections
News
Topics
Airport Terminal, Brian Taylor, CCL, CDE, CDE Lightband, CFD, CFR, City of Clarksville, Clarksville Department of Electricity, Clarksville Fire and Rescure, Clarksville Fire Department, Clarksville Marina, Clarksville Parks & Recreation Department, Clarksville TN, Critical Care List, Fireworks, Hwy 76, landfill, Liberty Park, Martin Luther King Boulevard, Power Outages, Sango, severe storm, Storms