Clarksville, TN – On August 17th, 2012, around 5:22am, Clarksville Police responded to a hit and run at the Shell Station, 3001 Fort Campbell Boulevard.
A man's delivery truck was hit while he was unloading merchandise. He saw a blue and white truck leaving the scene with damage to the passenger side of the vehicle. He was able to get a good look at the driver as he pulled off and provided the description to Police.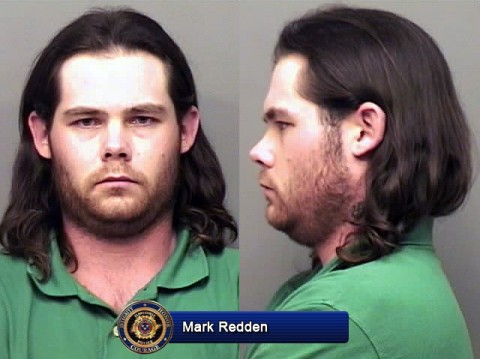 Around 5:35am, while Police were taking a report for the crash, another call for assistance came which involved a man chasing a neighbor with a machete at 223 King Road. When Officer Zack Upton arrived at 223 King Road, he saw a man meeting the description of the hit and run suspect run into 225 King Road.

He also saw a vehicle in the driveway with the color and damage consistent with the vehicle leaving the scene at the Shell Station. Additionally, the man, identified as Mark Redden, was determined to have been involved in the confrontation with the machete.

Officer Upton contacted Redden at 225 King Road and conducted a dual investigation into the hit and run and Aggravated Assault. He found the confrontation at King Road was precipitated after Michael Vermeis, 39 confronted Redden about loudly revving the engine and told him to stop.

The verbal argument turned physical when Redden lunged at Vermeis. Redden was punched in the face and knocked to the ground. He retrieved a machete from his truck, swinging it as he advanced on Vermeis who then picked up a rake to defend himself.

During the course of Redden's interview, he admitted to approaching Vermeis with the machete.
Officer Upton through the course of the investigation determined Redden had been the person who had hit the delivery vehicle and alcohol was involved. Redden was administered sobriety tests which he did not satisfactorily complete.
Mark Redden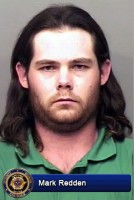 Name: Mark Anthony Redden (W/M)
DOB: 11/3/83
Given Address: 1213 Hand Drive, Clarksville, TN
Arresting Officer: Zack Upton
Charged With: DUI, Implied Consent, Leaving the Scene, and Aggravated Assault
Booked Into: Montgomery County Jail
Bond: $16,000.
Sections
News
Topics
Aggravated Assault, Bond, Clarksville Police Department, Clarksville TN, CPD, DUI, Fort Campbell Boulevard, Hand Drive, Hit and Run, Implied Consent, King Road, Leaving The Scene, Mark Anthony Redden, Michael Vermeis, Montgomery County jail, Shell Station, Zack Upton