Written by Brad Kirtley
APSU Sports Information Director

Clarksville, TN – When you graduate the program's second all-time leading rusher, the answers are not always easy. But in Austin Peay's case it may be as much about quantity as it is quality.
That that's the situation facing the Governors in 2012, replacing two-time 1,000-yard rusher Ryan White.
"We may not have just one guy but we have several guys we feel good about," Rick Christophel said. "Even though we will miss Ryan, in all honesty, I believe we could have more quality depth at running back than we have had since I have been here."
Wes Kitts is expected to be the No. 1 tailback. As a junior he rushed for 495 yards, averaging 5.9 yards per carry, as White's back up.
"Wesley Kitts is one of the fastest guys on this football team and he weighs 215 pounds," Christophel said. "He may not have quite the wiggle but as he showed in the first scrimmage, he can really turn the corner. The thing with Wes is just keeping on the field. He has battled injuries during his career. When he has been out there he certainly has shown what he is capable of."
If Kitts lacks great wiggle, the 5-3 sophomore Ean Pemberton may have as many moves as Donald Driver had on "Dancing with the Stars." In seven games a year ago he ran for 171 yards, averaging 4.9 yards per carry.
If Pemberton and Kitts are the dash at running back for position coach J.D. Sellers, Reco Williams could be the smash. At 6-1, 248 pounds, he can move the pile up front, but he also has good speed. In fact, one he gets going the second line of defense has trouble bringing him down.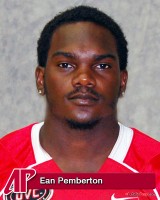 "Ean is little in stature but big in heart," Christophel said. "He runs with his eyes while Reco is a combination of both of them. He is not as fast as Wesley but he has a little wiggle.  He is not as quick as Ean but he is bigger and stronger at 240 pounds. He also can catch the football."
The Governors had hoped that redshirt sophomore Dontavious Brown, who had impressed in Fall 2011 camp before suffering a knee injury, would be a fourth option. But for a second straight year Brown has torn the ACL in his ??? knee. He had surgery for both the torn ACL and meniscus earlier this week.
Freshman Omar Williams has the potential to climb up the depth chart in a hurry if he can clear the academic hurdles.
Cody Tucker finally got out of the training room in 2011 and became a consistently productive player at fullback. Although he carried the ball just seven times and caught a trio of passes, Tucker became an effective blocker for White and Kitts.  Sophomore Andrew Montgomery played in 10 games a year ago serves as a backup as does freshman Filo Langkilde, a former prep teammate of Isaiah Tusiasosopo in Samoa.
"Cody has made himself into a good football player," Christophel said. "He has become physical. And the great thing about Cody is he is an athlete. He weighs 245 pounds but he can catch the football and he can run with it after he catches it. That's why we have tried to convince him to be more physical and he has.
"And what's exciting is he serves as a model to the young guys behind him, Andrew Montgomery and Filo. As excited as we are about our guys, Cody is the guy and we have to make sure we keep him healthy."