Written by Cody Bush
APSU Sports Information

Memphis, TN – Austin Peay State University's volleyball team began the Taylor Mott era with a five-set victory (25-17, 20-25, 25-19, 24-26, 15-11) against host Memphis, Friday afternoon at the Memphis Invitational.

Four Lady Govs hitters notched double-digit kill totals in the season-opening match. However, it was sophomore middle blocker Hillary Plybon's career-best 19-kill effort that paced the team to its second-ever victory against Memphis.

"We went into the Memphis match with a game plan and we executed it," said Mott. "The middles were outstanding and Cami (Fields) did a tremendous job setting them and making smart choices. We hope this kind of effort will continue and we know we still have a lot of work to do. But you can't teach heart and this team has a ton of it."

When Austin Peay (1-0) was able to run its offense efficiently, as it did in the first and third sets, it was able to pull away from Memphis to win the set. The first set saw the Lady Govs post 15 kills with a .382 attack percentage as Plybon and junior middle blocker Lauren Henderson each had four kills. Austin Peay added 17 kills at a .293 attack percentage in a third-set victory with senior outside hitter Nikki Doyle posting an impressive eight kills without an error.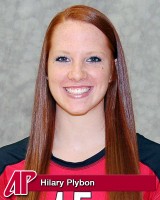 Memphis (0-1) was at its best when forcing Austin Peay into see-saw affairs. The Tigers put forth their best offensive outing in the second set with 15 kills and a .364 attack percentage, but still needed a 7-0 run to win the set after 10 ties and six lead changes. The fourth set was nearly identical with Memphis using a 5-0 run – aided by three Austin Peay errors to end the set – to win the set in overtime, 26-24.
Austin Peay turned the tables in the fifth set using a 5-1 run to end the match. The Lady Govs recorded only five kills in the frame but scored three points off service aces and received five points off Tigers errors.
Plybon finished with 19 kills and a .500 attack percentage. Also reaching double-digit kill territory were Doyle (15), Henderson (13) and sophomore Jada Stotts (10). Stotts also added 13 digs to record her first career double-double.
The Lady Govs recorded 60 kills to outpace the Tigers 56-kill effort. Austin Peay also posted 11 service aces and 10 blocks to dominate the hosts in both categories.
Altrese Hawkins led Memphis with a 19-kill, 18-dig double-double effort. Marija Jovanovic added 13 kills.
Austin Peay continues play at the Memphis Invitational with a 4:00pm contest against UALR which lost to Eastern Michigan, 3-1, in the tournament opener.
Box Score
Austin Peay Lady Govs Volleyball
Austin Peay vs Memphis
(8/24th/12 at Memphis, TN)
Austin Peay
ATTACK
SET
SERVE
SRV
DEF
BLOCK
GEN
##
Player
SP
K
E
TA
PCT
A
SA
SE
RE
DIG
BS
BA
BE
BHE
Points

1

FIELDS, Cami

5

1

2

5

-.200

50

2

1

0

8

0

3

0

2

4.5

5

SAIN, Alex

2

1

1

9

.000

1

2

0

1

6

1

1

0

0

4.5

9

DOYLE, Nikki

5

15

6

44

.205

0

1

3

0

9

1

1

0

0

17.5

12

HENDERSON, Lauren

5

13

3

24

.417

1

2

1

0

2

0

5

0

2

17.5

14

STOTTS, Jada

5

10

6

41

.098

0

1

2

1

13

1

1

0

0

12.5

15

PLYBON, Hillary

5

19

3

32

.500

1

2

5

0

5

1

1

0

1

22.5

2

HULL, Calyn

3

1

1

9

.000

1

1

0

0

4

0

0

1

0

2.0

3

ADAMS, April

5

0

0

0

.000

0

0

0

1

13

0

0

0

0

0.0

Totals

5

60

22

164

.232

54

11

12

3

60

4

12

1

5

81.0

TOTAL TEAM BLOCKS: 10.0
TEAM ATTACK BY SET
Set
K
E
TA
Pct
Sideout
Pct

1

15

2

34

.382

13-18

72%

2

10

6

39

.103

12-24

50%

3

17

5

41

.293

15-20

75%

4

13

8

39

.128

13-25

51%

5

5

1

11

.364

9-12

75%

62-99

62%

SET SCORES
1
2
3
4
5
TEAM RECORDS

Austin Peay

(3)

25

20

25

24

15

1-0

Memphis

(2)

17

25

19

26

11

0-1
Memphis
ATTACK
SET
SERVE
SRV
DEF
BLOCK
GEN
##
Player
SP
K
E
TA
PCT
A
SA
SE
RE
DIG
BS
BA
BE
BHE
Points

3

ZIMMERMAN, Veronica

3

1

2

3

-.333

26

1

0

0

9

0

0

0

1

2.0

6

HAWKINS, Altrese

5

19

7

44

.273

1

0

2

5

18

0

1

1

0

19.5

9

JOVANOVIC, Marija

5

13

4

30

.300

0

0

1

2

7

0

1

1

0

13.5

10

KOSTIC, Maja

5

9

5

36

.111

0

1

2

0

15

0

0

1

0

10.0

11

HAWKINS, Lauren

5

9

3

19

.316

0

0

0

0

0

1

0

1

0

10.0

19

WESLEY, Alexis

3

3

1

6

.333

0

0

0

0

1

0

2

1

1

4.0

4

PULIDO, Megan

1

0

0

0

.000

0

0

1

0

0

0

0

0

0

0.0

5

LOUIE, Jaden

3

0

0

2

.000

19

0

0

0

5

0

1

0

3

0.5

12

TEIVANE, Viktorija

1

0

0

0

.000

0

0

0

0

0

0

0

0

0

0.0

16

PETRONIJEVIC, A.

5

0

0

1

.000

5

1

2

4

17

0

0

0

0

1.0

22

MEYER, Katie

2

2

2

5

.000

0

0

0

0

0

0

1

1

0

2.5

Totals

5

56

24

146

.219

51

3

8

11

72

1

6

6

5

63.0

TOTAL TEAM BLOCKS: 4.0
TEAM ATTACK BY SET
Set
K
E
TA
Pct
Sideout
Pct

1

11

6

26

.192

12-24

50%

2

15

3

33

.364

13-21

61%

3

12

6

41

.146

14-24

58%

4

10

5

29

.172

14-25

56%

5

8

4

17

.235

8-14

57%

61-108

56%

Site: Memphis, Tenn. (Elma Roane FH)
Date: 8/24/12 Attend: 117 Time: 1:51
Referees: Robley Shewmaker, Mike Hamilton


| | | | | | | |
| --- | --- | --- | --- | --- | --- | --- |
| | 1 | 2 | 3 | 4 | 5 | Total |
| Tie scores | 3 | 10 | 2 | 13 | 10 | 38 |
| Lead changes | 1 | 6 | 1 | 6 | 3 | 17 |
Sections
Sports
Topics
APSU, APSU Athletics, APSU Sports, APSU Volleyball, APSU Women's Volleyball, Austin Peay State University, Cami Fields, Eastern Michigan, Hillary Plybon, Jada Stotts, Lady Govs, Lauren Henderson, Memphis, Memphis Invitational, memphis tn, Nikki doyle, Taylor Mott, Tigers, UALR