APSU Sports: Austin Peay Football

Clarksville, TN – Josh Carroll doesn't look like the prototypical middle linebacker.
Instead of being 6-3 or 6-4 and weighing between 235 to 250 pounds, Carroll checks in at only 5-9, weighing 225 pounds. If ever a player fit the quote: "It is not the size of a man but the size of the heart that matters," it is Carroll.
A backup to start the 2011 season, it didn't take Carroll long to move into the starting lineup. He ended up finishing third on the team in tackles with 76, including 4.5 for loss.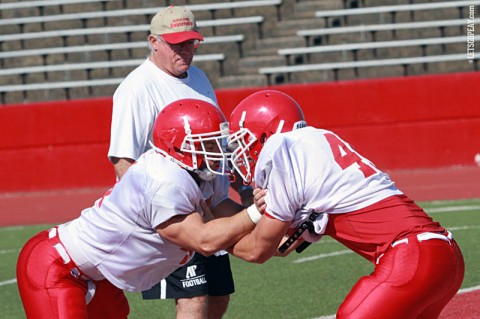 "The great thing about Josh Carroll is he will play every play if you let him-he doesn't want to come out," APSU coach Rick Christophel said. "We have to watch him because he plays so hard; we don't want to wear him down.  He is just a guy who makes plays for you."
After off-season knee surgery, Carroll didn't rejoin the Govs fulltime until midway through camp. That allowed former defensive end Rip Rowan and Josh Owens, a reserve the last two seasons, to gain more practice time.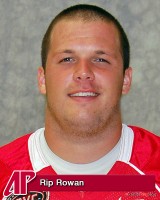 We have three mikes (middle linebackers) that we believe we can put on the field and be successful," Christophel said.
Rowan played linebacker in high school and approached Christophel about moving at 2011 season's end.  He was second on the team in tackles for loss a year ago with 6.0.
"He came to me and said he just wasn't real comfortable at defensive end, that he was fighting some things," Christophel said.  "He felt like he could help us more at linebacker. I am the type guy who is going to give you a shot, if it works, that's great, but if not, we will move you back to defensive end.
"He lost some weight and he seems to really like it. I think he is going to be a pretty good player for us there."
In addition to Carroll, Rowan and Owens, junior Jared Sexton, who is backup quarterback Jacob Sexton's brother, first into the mix as do sophomore Logan Slagle and freshman walk-on William Cooper. Sexton and Slagle proved to be valuable cover men on kickoff returns a year ago.
At the strong side linebacker, senior Darrick Dillard and junior Craig Salley will continue their battle began midway through last season. Dillard, who tied for APSU's tackle lead (84) two years ago, was fourth on the team last year with 52. He battled some injuries. He also struggled with a leg injury during fall camp.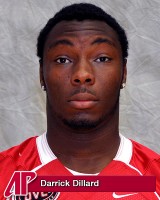 Salley, who gained two late-season starts a year ago, finished with 35 tackles in 2011 and three quarterback hurries.
Redshirt freshman Adam Noble, after adding some strength and bulk in the off-season, was one of the Govs leading tacklers in the first scrimmage.
We got six or seven guys that we think can play and will play for us," Christophel said. "We also have a guy like William Cooper, a walk on, who really has a chance to help us in the future."