APSU Sports: Austin Peay Football

Clarksville, TN – Derek Carr threw for 266 yards and two first-half touchdowns to lead UT Martin to a 31-6 victory, Saturday night, in Ohio Valley Conference action in Governors Stadium.
The Govs remain winless at 0-4, including 0-2 in OVC play. They also are 0-2 in Sergeant York Trophy contests.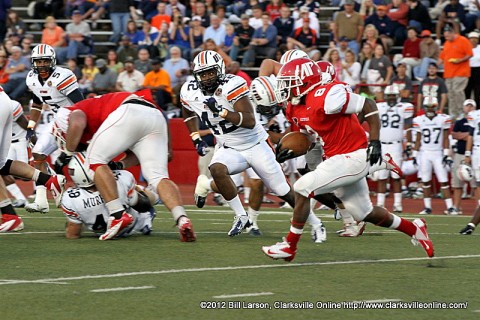 UT Martin improved to 3-1 overall and 1-0 in OVC play and Sergeant York Trophy games.
Penalties again proved to be the Governors nemesis. They finished with 274 yards total offense but constantly found plays negated by 15 penalties for 144 yards. The Governors have been slapped with 25 penalties for more than 250 yards over the last two weeks. It also helped counteract another Wes Kitts rushing effort. He finished with 118 yards rushing on 23 carries, his third 100-yard rushing effort in four career starts.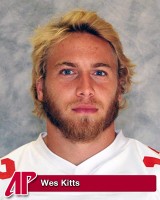 The penalties certainly affected the Govs in the first half but not as much as Carr. He dominated the first 20 minutes by completing 17 of 26 passes for 209 and two TDs.
After Austin Peay missed a chance to score first when Stephen Stansell failed on a 30-yard field goal attempt, the Skyhawks needed 10 plays to go 80 yards, with Carr completing six passes on the drive, the final a 21 yarder to Jeremy Butler for the game's first TD.
Carr hooked up with preseason All-American Quentin Sims for a 24 yarder midway through the second half.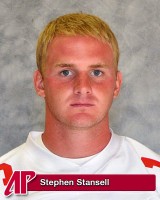 A 40-yard Carr to Kevin Barfield set up the third TD just 3 ½ minutes later to give the Skyhawks a 21-0 lead.
APSU's only highlight came when Stephen Stansell booted 35-yard field goal with nine seconds left in the half. It was his 33rd career field goal, tying him with Tom McMillan (1986-89) for the career mark.
The Govs ended the first half with 150 yards in total offense while UTM had 257 and 14 first downs.
The second half became one of field goals. Stansell became APSU's all-time career leader by connecting on a 35 yarder with 8:59 remaining while Cody Sandlin answered with one from 32 yards.
The only score in the fourth period came when APSU quarterback Jake Ryan was sacked by Deantae Glover, forcing a fumble, It was picked up by Fred Flenorl, who returned it 11 yards for a touchdown.
The Skyhawks finished with 384 yards in total offense. Sims finished with seven catches for 86 yards while Butler had five for 90.
Defensively, linebacker Ben Johnson led UTM with 11 stops while defensive back Montez Carlton, Johnathan Shuler and Steven Rich each had seven stops and an interception.
Post Game Notes
Senior Stephen Stansell broke the school record with his 34th career made field goal. He also passed Terrence Holt for fourth most points as a Gov.
Stansell's second field goal, a 35-yarder with nine seconds remaining in the first half, was the Govs first points. It also extended APSU's streak to 77 straight games with at least one point.
The Govs converted their second fourth down of the season during their lone scoring drive of the first half.
Senior Ashlon Adams made a career-long 26-yard catch in the second quarter.
Senior Wes Kitts rushed for 118 yards tonight. He has rushed for over 100 yards in three of this year's four games.
In rushing for 118 yards, Kitts had no carry longer than 15 yards and was not stopped for negative yards in any of his carries.
Sophomore Steven Rich's first-quarter interception was the first of his Austin Peay career.
Sophomore Johnathan Schuler recorded his first career interception in the fourth quarter.
Penalties plagued the Governors again. They had 15 penalties for 144 yards, giving them 25 penalties for 264 yards over the last two games.
Austin Peay failed to score a touchdown in the game and now has not scored a touchdown in six consecutive quarters.
Austin Peay has allowed 11 TD passes in four games.
The Govs' loss was the fifth straight in the series to UT Martin. The Govs are now 25-34-2 all-time against UTM.
Austin Peay is now 4-2 under Rick Christophel in home openers.
Postgame Quotes
APSU Head Coach Rick Christophel
Thoughts on the game:
"Our defense played well in the second half; we held them to just three points. Our coaching staff made some adjustments at half and our defense really responded to the changes well. Offensively, we came down and established the run game, but we should have developed more of a passing game. With a defense like Martin plays we had to beat them in the backfield. "
How did the penalties affect the game?
"We had 14 penalties tonight, and its hard to win that way. The biggest backbreaking penalty was that we intercepted the ball and brought it out to the 50 and we have a personal foul. Then we get a first down called back by an illegal block penalty. And I need to start making sure these kinds of things don't happen."
How is Jake Ryan and what did you think of his play?
"I think Jake will be fine. He had a bit of a back issue that he tweaked but he should be fine. He had a rough game and its hard playing games like that. That being said, Jake did a great job managing the game tonight. And really his stats are misleading, he was 7 for 18 but he had quite a few drops in there. Ashlon Adams stepped up and had a few catches. Some of those other receivers need to step up and make those catches that they're dropping. If we have some guys step up, it will take the pressure not only off of Jake but of Devin too."
Final thoughts
"I was really proud of our guys. We played hard and fought to the end. If we keep playing hard like that we have a chance out there. We got really banged up but our guys fought hard and stuck in there."
Photo Gallery
Box Score
UT Martin (3-1,1-0) vs. Austin Peay (0-4,0-2)
Date: Sept. 22nd, 2012 • Site: Clarksville, TN • Stadium: Governors Stadium • Attendance: 7463
| | | | | | |
| --- | --- | --- | --- | --- | --- |
| Score by Quarters | 1 | 2 | 3 | 4 | Score |
| UT Martin | 7 | 14 | 3 | 7 | 31 |
| Austin Peay | 0 | 3 | 3 | 0 | 6 |
SCORING SUMMARY
UTM -APSU

1st

06:38

UTM

BUTLER, Jeremy 21 yd pass from CARR, Derek (SANDLIN, Cody kick)

10 plays, 80 yards, TOP 3:37

7 – 0

2nd

07:02

UTM

SIMS, Quentin 24 yd pass from CARR, Derek (SANDLIN, Cody kick)

10 plays, 65 yards, TOP 3:31

14 – 0

03:32

UTM

MCNEIL, DJ 2 yd run (SANDLIN, Cody kick)

3 plays, 44 yards, TOP 0:47

21 – 0

00:09

APSU

STANSELL, Stephen 35 yd field goal

14 plays, 57 yards, TOP 3:23

21 – 3

3rd

08:59

APSU

STANSELL, Stephen 35 yd field goal

10 plays, 56 yards, TOP 5:54

21 – 6

02:19

UTM

SANDLIN, Cody 32 yd field goal

4 plays, 6 yards, TOP 1:29

24 – 6

4th

07:46

UTM

FLENORL, Fred 11 yd fumble recovery (REDDITT, Jackso kick)

31 – 6
Kickoff time: 6:02pm • End of Game: 9:05 • Total elapsed time: 3:03
Referee: Jason McArthur • Umpire: Kenneth Oglesby • Linesman: Neil Hughes • Line judge: Jeff Irwin • Back judge: Randy Jackson • Field judge: Burney Jenkins • Side judge: Chip Shields • Scorer: APSU Stat Crew •
Temperature: 75 • Wind: NW 7 • Weather: Clear
APSU Stansell sets school career record for FGM (34).