APSU Sports: Austin Peay Football

Charleston, IL – Jimmy Garoppolo threw five touchdown passes, all longer than 50 yards, to lead Eastern Illinois to a 65-15 victory against Austin Peay State University, Saturday afternoon, in Ohio Valley Conference action at O'Brien Field.
The loss left the Govs 0-5 on the season, 0-3 in OVC play.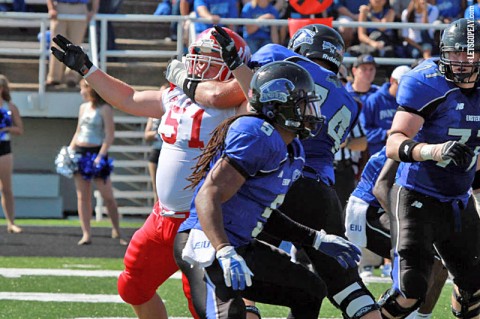 Eastern Illinois improved to 3-2 on the season. It was the third time this season the Panthers scored 50 or more points. It also was the most points scored against the Governors in an OVC game during its two tenures in the league.
Garoppolo finished the game 18 of 31 for 453 yards in throwing those five TDs. He also rushed for another score as he finished the game with 541 yards in total offense.
Even though Austin Peay held the ball for a stunning 21:52-to-8:08 margin the opening half, it was EIU's quick-strike ability that left the Govs dazed. After EIU held the Govs on the day's first possession to three-and out, it took just three plays for the Panthers, the OVC's top scoring offense, to respond. Garoppolo found Chris Wright down the left sideline for 66 yards and EIU quickly led, 7-0.
After the Govs again failed to capitalize on its next possession, EIU had its longest drive of the day, going 74 yards in nine plays, with Jake Walker running 28 yards to make it 14-0.
Again APSU was unable to respond, missing a long field goal. The Panthers took over at their own 34 and on the first play Garoppolo hooked up with Keiondre Gober for a second 66-yard TD pass. That gave the Panthers a 21-0 lead heading in the second quarter.
After EIU's Cameron Berra made it 24-0 with a 28-yard field goal, APSU finally scored when Ryan drove the game 75 yards in 14 plays, culminated with an eight-yard scoring toss to Devin Stark.
But before the Govs could even catch their breath, the Panthers scored in two plays—a 20 second drive—when Erik Lora, who caught 21 passes a week ago, hauled in a 50-yard pass down the left sideline.
The Govs scored with 39 seconds left in the half on a Wesley Kitts 15-yard run. But that was still too much time left on the clock for EIU. Garoppolo hit Wright with his second long strike, this one down the middle from 63 yards out with 23 seconds left.
APSU lone bright spot was running back/wide receiver Terrence Oliver, who finished with nine catches for 100 yards, joining Devin Stark as Govs' receivers with 100-yard receiving games.
EIU had a trio of receivers with 100-yards in receptions, led by Lora (7 for 139), Wright (3 for 137) and Gober (3 for 132).
EIU finished the game with 671 yards in total offense compared to 329 for the Governors. APSU quarterback Jake Ryan completed 23 of 46 passes for 205 yards and one TD.
Post Game Notes
Austin Peay now has lost three four straight games to Eastern Illinois, falling to 3-10 all time in the series.
Austin Peay held a misleading 37:20 to 22:10 time-of-possession advantage against Eastern Illinois.
The 65 points were the most allowed by the Governors during an OVC contest.  The previous high was 61. They permitted 61 to UT Martin a year ago and 61 to Murray State in 2010.

Wide receiver/running back Terrence Oliver finished the game with 9 catches for 100 yards, joining Devin Stark as Governors who have had 100-yard receiving contest.
Senior running back Wes Kitts was held to 79 yard rushing on 22 carries and a TD. It was only the second time this season he was held to less than 100 yards rushing.
Sophomore punter Ben Campbell averaged a season-best 42.3 yards per punt, with a long of 50 and two downed inside the 10-yard line.
Eastern Illinois' average TD drives were 4.6 plays, only 3.4 plays per TD drive in the first half.
Junior linebacker Craig Salley led the Govs with seven tackles.
The Govs now have lost nine straight OVC games.
APSU has now permitted 16 TDs pass in five games.
Box Score
Austin Peay (0-5,0-3) vs. Eastern Illinois (3-2,2-0)
Date: Sep 29th, 2012 • Site: Charleston, IL • Stadium: O'Brien Field • Attendance: 9154
| | | | | | |
| --- | --- | --- | --- | --- | --- |
| Score by Quarters | 1 | 2 | 3 | 4 | Score |
| Austin Peay | 0 | 15 | 0 | 0 | 15 |
| Eastern Illinois | 21 | 16 | 28 | 0 | 65 |
SCORING SUMMARY
APSU -EIU

1st

12:13

EIU

WRIGHT 66 yd pass from GAROPPOLO (BERRA kick)

3 plays, 75 yards, TOP 0:42

0 – 7

08:31

EIU

WALKER, J. 28 yd run (BERRA kick)

9 plays, 74 yards, TOP 1:52

0 – 14

04:28

EIU

GOBER 66 yd pass from GAROPPOLO (BERRA kick)

1 play, 66 yards, TOP 0:11

0 – 21

2nd

11:01

EIU

BERRA 28 yd field goal

6 plays, 16 yards, TOP 0:58

0 – 24

05:28

APSU

STARK, Devin 6 yd pass from RYAN, Jake (STANSELL, Stephen kick)

14 plays, 75 yards, TOP 5:33

7 – 24

05:02

EIU

LORA 50 yd pass from GAROPPOLO (BERRA kick)

2 plays, 65 yards, TOP 0:20

7 – 31

00:39

APSU

KITTS, Wesley 15 yd run (STARK, Devin pass from RYAN, Jake)

15 plays, 78 yards, TOP 4:17

15 – 31

00:11

EIU

WRIGHT 63 yd pass from GAROPPOLO (GAROPPOLO pass failed)

2 plays, 69 yards, TOP 0:23

15 – 37

3rd

13:02

EIU

GAROPPOLO 6 yd run (BERRA kick)

6 plays, 56 yards, TOP 1:43

15 – 44

07:12

EIU

WALKER, J. 1 yd run (BERRA kick)

10 plays, 48 yards, TOP 2:44

15 – 51

04:47

EIU

GOBER 56 yd pass from GAROPPOLO (BERRA kick)

1 play, 56 yards, TOP 0:07

15 – 58

00:30

EIU

KROL 1 yd run (BERRA kick)

7 plays, 34 yards, TOP 1:54

15 – 65
Kickoff time: 1:35 pm • End of Game: 4:45 pm • Total elapsed time: 3:10
Referee: Matt Young • Umpire: John Graham • Linesman: Steve Swift • Line judge: Craig Dunn • Back judge: Drew Myers • Field judge: J. Pownall • Side judge: Greg Koerner • Scorer: EIU Sports Info • Temperature: 71-deg • Wind: NE-5mph • Weather: Sunny; slight breeze
Ohio Valley Conference contest… 13th meeting
… 2012 Family Weekend