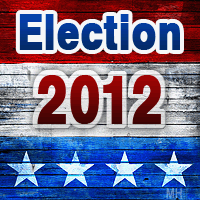 Clarksville, TN – The Credo for Congress campaign will be hosting a watch party for the 2012 Presidential Debate at their Campaign Headquarters located at 420-A Madison Street, Clarksville, TN.
This is open to the public and will begin promptly at 6:00pm on Wednesday, October 5th.
Finger food and refreshments will be provided.
Credo Amouzouvik is a combat wounded Iraq War veteran.  He is running for U.S. Congress in Tennessee's 7th District against incumbent Marsha Blackburn.
Mr. Amouzouvik will be present to participate in discussion around the debate, and concerns regarding District 7 residents.
To find out more about the Credo for Congress campaign, visit their website at www.CredoforCongress.com. You can also stop by and pick up yard signs, buttons, bumper stickers and T-shirts for each of the Democratic candidates who are running for office at the campaign headquarters between 9:00am and 6:00pm.
Map