The 104th meeting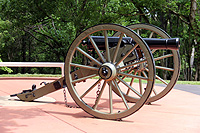 Clarksville, TN – The next meeting of the Clarksville (TN) Civil War Roundtable will be on Wednesday, November 14th, 2012 at the Bone & Joint Center, 980 Professional Park Drive, right across the street from Gateway Hospital. This is just off Dunlop Lane and Holiday Drive and only a few minutes east of Governor's Square mall. The meeting begins at 7:00pm and is always open to the public.  Members please bring a friend or two – new recruits are always welcomed.
This is a special meeting night one week earlier than normal due to the Thanksgiving holiday the following week.
The meetings topic is "Sam Watkins and his Memoir, Co. AYTCH, 1ST Tennessee Infantry"
He was one of the "stars' of the Ken Burns Civil War series on PBS. His memoir is considered one of the best ever written and it remains one of the most quoted in books, articles and other Civil War outlets. He is Private Sam Watkins, Co. H, Maury Grays, 1st Tennessee Infantry (Maney's), who hailed from Columbia, TN. The book was first published in the Columbia newspaper in 1881-1882 as a serial.
Demand was such that Watkins printed it in book form and two editions of 2000 copies each sold out, the second being published by a Chattanooga newspaper. The book remains in print through several editions. Thousands of copies have been sold to  date. Written with humor, grace and candor, Watkins describes his war through the eyes of what he called a "high private," and the scope was his career from Virginia to North Carolina where the war ended for the Army of Tennessee.
Watkins described the drudgery of war, the horrors of battle (his description of the Battle of Kennesaw Mountain is brilliant!) but he kept it human with tales of his mess mates and sometimes with sharp barbs aimed at officers he served under from army commanders down to captains.  Yet he also adored one of his regimental commanders, Hume Field.  Watkins had a great talent for the written word and his book is an easy and fun read to this day.
The latest edition of the memoir (2007) was published by this month's speaker, Ruth Hill McAllister, Watkins' great-granddaughter. Sam wanted to revise his memoir and did so in  hand writing but that version was never issued until recently.  Mrs. McAllister carefully edited into the standard version all of Sam's revisions.  The result is the complete study along with  Sam's additions and sections he wanted to remove. The book remains the great read it always has with even more of his insightful prose.
Ruth Hill McAllister lives and works in Columbia, Tennessee where she was born and raised. Her father was Sam Watkins' grandson. She is the producer of the Dawson Watkins syndicated radio show. After graduating from Vanderbilt with a history degree, she taught school in Georgia and also worked in the Campus Crusade for Christ.  She has also worked  with various youth groups in Christian ministry. She and her husband have two sons and one grandson.
Please join us for another informative meeting of the Clarksville Civil War Roundtable.