A man placed on probation for burglary in November 2012 has been arrested for Burglary again.

Clarksville, TN – Clarksville Police have been investigating a vehicle burglary which occurred, January 12th, 2012, between 8:30pm-9:00pm on the parking lot of a business at the 600 block of  Riverside Drive.
The owner of the vehicle had parked his 2000 Chevy pickup on the lot and went in the business.  When he came out a short time later, someone had entered the unlocked vehicle and took items out of the truck worth over $700.00.
Detective Josh Jobe's investigation determined Vincent Ferrell had entered the unlocked vehicle and took the property from inside, at which time, a warrant was taken out for Vehicle Burglary.

On January 14th, 2012, around 9:15pm, located Ferrell on Greenwood Avenue and took him in custody.

Ferrell has an extensive history for Theft of Property.

Clarksville Police are also trying to determine if a couple of knives, Presidential coins, and a car charger found in Ferrell's possession belong to him. If anyone is missing the described property, please contact Detective Jobe, 931.648.0656, ext. 5269.
Vincent Ferrell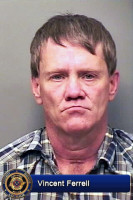 Name: Vincent Ferrell
Race: W
Gender: M
DOB: 6/27/64
Given Address: Homeless
Arresting Officer: Brian Coghill
Charged With: Burglary and had pending warrant for Violation of Probation served
Booked Into: Montgomery County Jail
Bond: $15,000.
Sections
News
Topics
Bond, Brian Coghill, burglary, Clarksville Police Department, Clarksville TN, CPD, Greenwood Avenue, Homeless, Josh Jobe, Montgomery County jail, Riverside Drive, Vehicle Burglary, Violation of Probation, Warrant