Rivers and Spires is being held April 18th-20th.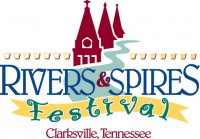 Clarksville, TN – This weekend, the place to be is Downtown Clarksville, Tennessee for the 11th annual Rivers and Spires Festival. The Festival begins Thursday, April 18th and runs through Saturday, April 20th.
The streets will be filled with with craft and food vendors, five music stages, kids' activities and artisan booths. So come out for a great time.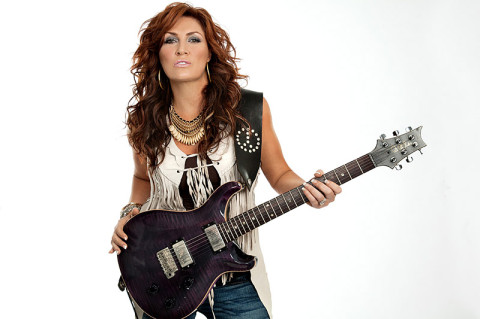 On Saturday, April 20th, Grammy nominated and CMA award-winning country musician Jo Dee Messina will be on the Public Square stage starting at 7:00pm.
She will perform some of her biggest hits that made her a superstar and one of country music's leading ladies. Songs such as "Heads Carolina, Tails California", "Bye Bye", "I'm Alright", "Stand Beside Me" and "Bring On The Rain" will make up a concert you don't want to miss.
The concert is free and open to the public.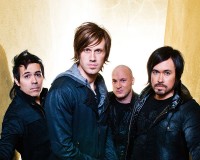 Dove Award winning, contemporary Christian group, Building 429 will make a stop in Clarksville this year while on their Give Me Jesus tour. They will bring their inspirational message to the Family Fun Stage, located in the First Baptist Church parking lot, on Saturday night at 5:00pm.
If you love a good cover band, then Rivers and Spires is where you need to be. On Friday night, the Public Square stage will be host to the 80's cover band The Breakfast Club at 7:00pm and then, the internationally known band that pays tribute to the gloved one himself, Who's Bad will be taking the stage at 8:00pm.
As if those concerts aren't enough to get you excited, then take in some local talent and the acts that will be topping the charts of the future. From Clarksville's Got Talent and Last Band Standing to the youth talent show, Aspire to Stardom, these performers will wow you with their singing and dancing abilities. Check out wwww.riversandspires.com to see the times and locations for each of these competitions.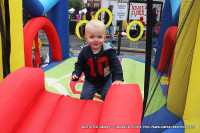 From toddlers to teens, entertaining the kids is a top priority for the Festival. This year, the Festival has combined all of your favorites, including Toddler Town, Kids Zone, Teen Zone and Green Zone, into one family friendly area, the Family Fun Zone, located along Hiter and Commerce Streets. There, you will find over 40 free events for kids of all ages to enjoy including music, inflatables, performers, demonstrations, face painting, carnival games and numerous kinds of interactive entertainment.
Also back again in this area is the popular zip line! For those daring enough to strap into the harness and go flying over the Family Fun Zone, this attraction can be enjoyed for the price of just a few tickets.
Kids 12-years-old or younger and accompanying adults can join all the fun in the annual Rivers & Spires Festival Children's Parade. The theme for this year's parade is "Happy Healthy Eaters". Children and groups are encouraged to enter the Children's Parade theme contest. Entries will be judged on creativity and the parade theme. Come cheer on the parade participants at 1:00pm on Saturday. Parade route can be seen on www.riversandspires.com.
After a very successful first year, Brew Fest, sponsored by Ajax Distributing Company, is back to cater to the taste buds of beer aficionados and the novice alike. Set in a laid back atmosphere, this ticketed event allows you to enjoy up to 80 different ale and lager samples picked by award-winning breweries across the country. Complete with live music and cooking shows, this area of the Festival is sure to please all of your senses.
For guests 21 years and over, tickets may be purchased online allowing you open access to sample to your heart's content. ID's will be checked the day of the event. Be sure to sign up online for our e-newsletter and be one of the first to know when tickets go on sale for this award-winning event.
As special tribute to our soldiers past and present, several military groups host exhibits and demonstrations at the Festival. This year USAA and Rivers & Spires will host a Military Appreciation area. Visitors can see United States military history come alive with reenactors and displays from the Colonial era through present day. The Military Appreciation area will be located near the intersection of Commerce street and 2nd street.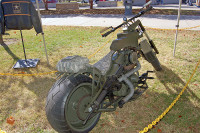 Also at the Military Appreciation area, the U.S. Army's famed Orange County Chopper will be making its first appearance in Middle Tennessee since 2011. The detailed motorcycle will be on display both Friday and Saturday at Rivers and Spires.
Explore one of the tanks or military vehicles on site and take a look back in the past with the local Don F. Pratt Memorial Museum and their popular annual set-up. USAA will also display their products and services designed for military members and their families.
The Montgomery County Animal Control and Adoption Services will be unveiling its new Mobile Adoption Trailer during the  Festival. The trailer will be parked at the corner of Hiter and Commerce Streets in the Kid's Zone of the festival.
This adoption trailer has many great features, including heat/air conditioning, running water, see-through sides for easy viewing of the animals and 22 kennels.
You simply cannot come to Rivers & Spires without getting some shopping in. During the jam packed three days, you will have the opportunity to purchase unique gifts and novelties that you won't find anywhere else. The Marketplace at Rivers & Spires Festival has everything from eclectic home items, toys and games to clothing and jewelry.
Artisans from all over the country come to Clarksville to show off and sell their handmade artwork, jewelry and woodwork in the Artz Galore area. Take time to browse the booths in search of the special something to take home as a souvenir of your Rivers & Spires adventure.
Once you decide if you are staying for one night or two, be sure to check out some of our great hotel packages starting at just $80.00 a night. Packages can include amenities such as complimentary breakfast, shuttle service to and from the event and free parking. The best part is, with the package you can pre-purchase your food and drink tickets and avoid long lines at the Festival. You can see the deals from hotels like La Quinta Inn & Suites and Country Inn & Suites at
www.clarksvillecvb.com
.
The Rivers & Spires Festival can't wait to see your face around here this spring. For more information about the 2013 Festival, please visit www.riversandspires.com. Become a fan on Facebook, follow us on Twitter @riversandspires and join our text club by texting 'SPIRES' to 68255.
About the Rivers and Spires Festival
The 11th annual Rivers & Spires Festival will be held April 18th-20th, 2013 in Historic Downtown Clarksville. This event has five stages of entertainment with over 100 entertainers performing all three days. From children's activities, arts & crafts, car shows, military exhibits, BrewFest, shopping and so much more this is truly an event for the whole family. Admission to the Festival is free including all concerts and many of the games and activities.
For more information about Rivers & Spires contact Doug Barber at or visit us at www.riversandspires.com.