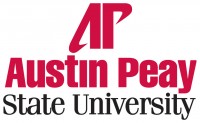 Clarksville, TN – When the Canadian singer Leonard Cohen first released his hauntingly beautiful song "Hallelujah" back in 1984, it received little fanfare. But over the years, musicians such as Bob Dylan and Jeff Buckley recorded covers of the work, causing its popularity to skyrocket.
Versions of the song have since appeared on TV shows such as "One Tree Hill" and "The Voice," and movies like 2001's "Shrek."
At 7:30pm on Wednesday, May 1st, the Austin Peay State University choral group Vocal Ease will perform an a cappella version of the now classic song during an evening of music that spans several centuries. The concert, "From Vivaldi to the Pentatonix," will feature a wide range of works performed by three of APSU's choral ensembles – Vocal Ease, Governors Singers and University Choir.
"It's an evening meant to showcase the various vocal ensembles at the University," Dr. Korre Foster, director of choral activities at APSU, said. "The program will feature eclectic music, ranging from Heinrich von Herzogenberg to Clarksville's own George Mabry to the Pentatonix, all the way to Vivaldi. It will be local, contemporary, German Romanticism and Italian Baroque, both a cappella and accompanied."
The evening will begin with Foster directing the Governors Singers in several powerful works, such as Herzogenberg's "Die Nacht" and Mabry's "A Chorister's Covert Concert." Then Hollie Dueker, APSU adjunct professor of music, will lead Vocal Ease in several pop-infused pieces, such as "Hallelujah" and "Dream a Little Dream of Me."
The University Choir, under the direction of APSU graduate student Zach Thompson, will then perform pieces by Anton Bruckner and Thomas Morley. The concert, which is free and open to the public, will end with Antonio Vivaldi's "Domine ad adjuvandum me festina," with both faculty and student instrumentalists joining to make music.
"It's a very kaleidoscopic program," Foster said. "And it's the last chance someone has to hear our students before summer break."
For more information on this concert, contact Foster at fosterk@apsu.edu.