Scooter Gennett, Stephen Parker and Rob Wooten Extend Streaks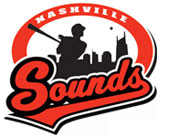 Nashville, TN – Five hours and fifty-eight minutes after scheduled first pitch, the Nashville Sounds dropped the series finale against the Fresno Grizzlies by the score of 5-4 at Greer Stadium, splitting the series 2-2.
Tied 4-4 in the 12th, Fresno broke through with a one-out run on Hector Sanchez's double to the right-field corner. The extra-base knock scored Brett Pill, who reached base by drawing a walk from Sounds reliever Travis Webb (0-1).
The Sounds loaded the bases with no outs in the bottom of the frame, but two strikeouts and a grounder ended concluded the series. The extra innings allowed Sounds third baseman Stephen Parker to extend his hitting streak to 13 games, picking up a single to right field in the 10th. The streak is the longest by a Sound this season and the longest of Parker's career.
Fresno picked up two runs off Sounds reliever Mike Olmsted in the seventh inning to tie the game 4-4 and eventually send the game to extras. Johnny Monell, pinch hitting for pitcher Steve Edlefsen, lifted a home run over the left-field wall. The shot marks the second night in a row the Sounds have allowed a pinch-hit dinger, after having not allowing one since July 29th, 2011. The Grizzlies tied it up with Roger Kieschnick's RBI-single.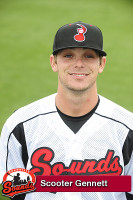 The Grizzlies got on the board first, touching Sounds starting pitcher Johnny Hellweg early for two runs on three hits and one walk in the first inning. Pill had the run-scoring blow, a single into left field to score the two runners in scoring position.
The Sounds answered Fresno with two runs of their own in the bottom of the first, ignited by Scooter Gennett's lead-off triple. The three-bagger extended Gennett's on-base streak to 28 games, the longest streak in the PCL this season. Caleb Gindl followed up with an RBI-single, finishing with four hits, and was driven in by Khris Davis' single after two wild pitches moved him to third.
Tied 2-2 in the fourth inning, the Sounds plated the go-ahead run on a passed ball charged to Fresno catcher Hector Sanchez. His counterpart Anderson De La Rosa, three-for-six on the night, scored on the play from third, after already benefitting from a passed ball earlier in the inning.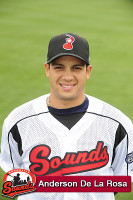 Hellweg shut down the Grizzlies after the first, finishing with two runs on three hits over five innings of work and left in line for the win. The 24-year-old twirled three strikeouts, walked three and further helped his cause by going 2-for-2 at the plate. Tim Dillard and Kyle Heckathorn each pitched a scoreless inning before Rob Wooten collected three scoreless innings to improve his streak to 17 2/3 innings without letting in a run. The loss was charged to Webb.
The Sounds begin a new four-game series on Saturday night at Greer Stadium, hosting the Sacramento River Cats (AAA-A's affiliate) at 6:35pm. The Sounds will send RHP Tyler Thornburg (0-3, 6.00) to the hill against Smyrna, TN native and former Vanderbilt pitcher Sonny Gray (3-1, 2.61).
Nashville's NEWS 2 will present a special fireworks show following the game. Saturday also marks the first of six Trevecca Nazarene University FAITH NIGHTS® this season, featuring a pregame music concert by The Katinas.
Box Score
Fresno Grizzlies (18-18) 5, Nashville Sounds (10-23) 4
May 10th, 2013
1
2
3
4
5
6
7
8
9
10
11
12
R
H
E
Fresno Grizzlies
2
0
0
0
0
0
2
0
0
0
0
1
5
10
2
Nashville Sounds
2
0
0
1
0
1
0
0
0
0
0
0
4
15
1
a-Homered for Edlefsen in the 7th. b-Struck out for Machi in the 10th. c-Popped out for Rosario, S in the 12th.
BATTING
2B: Brown, G (8, Wooten), Sanchez, H (1, Webb).
HR: Monell (4, 7th inning off Olmsted, 0 on, 1 out).
TB: Sanchez, H 3; Monell 4; Pill; Brown, G 3; Kieschnick; Tanaka 2; Perez, J.
RBI: Pill 2 (45), Monell (9), Kieschnick (25), Sanchez, H (1).
2-out RBI: Kieschnick.
Runners left in scoring position, 2 out: Dominguez, C 2; Jurica; Pill 3; Williams.
GIDP: Pill.
Team RISP: 2-for-12.
Team LOB: 11.BASERUNNING
SB: Perez, J (7, 2nd base off Hellweg/De La Rosa, A), Tanaka (9, 2nd base off Olmsted/De La Rosa, A).FIELDING
E: Fitzgerald (1, throw), Jurica (5, fielding).
PB: Sanchez, H 2 (2).
Outfield assists: Brown, G (Davis, K at 1st base), Kieschnick (Gennett at 2nd base).
DP: 2 (Brown, G-Jurica-Pill, Jurica-Tanaka-Pill).
a-Struck out for Dillard in the 6th. b-Walked for Heckathorn in the 8th. c-Struck out for Wooten in the 11th.
BATTING
2B: De La Rosa, A (5, Edlefsen), Gindl (8, Ramirez, R).
3B: Gennett (2, Fitzgerald).
TB: De La Rosa, A 4; Halton; Hellweg 2; Gennett 4; Parker, S; Davis, K; Gindl 5; Morris, H.
RBI: Gindl (17), Davis, K (5).
2-out RBI: Davis, K.
Runners left in scoring position, 2 out: Prince 2; Parker, S; Davis, K; Gennett; Davis, B 2.
GIDP: Davis, K.
Team RISP: 2-for-19.
Team LOB: 13.BASERUNNING
SB: Gindl (1, 2nd base off Fitzgerald/Sanchez, H), De La Rosa, A 2 (3, 2nd base off Machi/Sanchez, H, 3rd base off Machi/Sanchez, H).
CS: Prince (3, 2nd base by Rosario, S/Sanchez, H).FIELDING
E: De La Rosa, A (2, missed catch).
Outfield assists: Gindl (Pill at 2nd base).
DP: (Parker, S-Gennett-Morris, H).
WP: Fitzgerald 2, Ramirez, R, Hellweg.
Balk: Dillard.
IBB: Kieschnick (by Wooten).
HBP: Brown, G (by Hellweg).
Pitches-strikes: Fitzgerald 90-55, Edlefsen 13-9, Ramirez, R 22-13, Machi 32-22, Rosario, S 36-22, Hembree 29-19, Hellweg 104-59, Dillard 11-8, Olmsted 22-13, Heckathorn 11-8, Wooten 44-30, Webb 26-18.
Groundouts-flyouts: Fitzgerald 6-2, Edlefsen 0-0, Ramirez, R 0-0, Machi 1-1, Rosario, S 0-1, Hembree 1-0, Hellweg 5-4, Dillard 3-0, Olmsted 1-1, Heckathorn 1-0, Wooten 0-1, Webb 1-0.
Batters faced: Fitzgerald 24, Edlefsen 4, Ramirez, R 4, Machi 8, Rosario, S 7, Hembree 6, Hellweg 21, Dillard 4, Olmsted 6, Heckathorn 3, Wooten 13, Webb 5.
Umpires: HP: Shaun Lampe. 1B: Stu Scheurwater. 2B: Lance Barrett. 3B: Kellen Levy.
Weather: 71 degrees, drizzle.
Wind: 2 mph, R to L.
T: 4:45 (1:13 delay).
Att: 6,416.